The E Street Band Is Divided on This Whole Hamilton-Pence Issue
The Boss and his bandmate Steven Van Zandt have differing opinions on the American musical.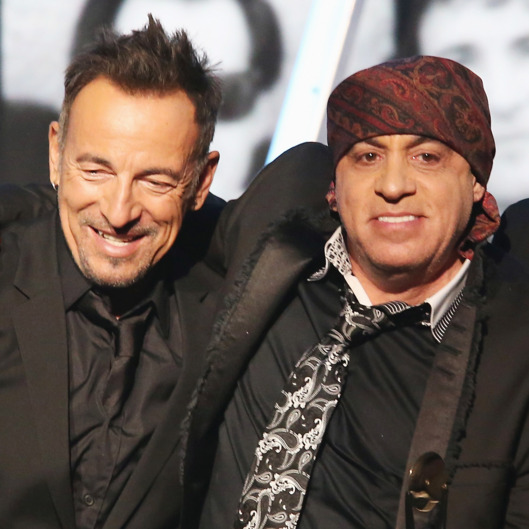 By now, you're probably more than aware of the story of this weekend's Hamilton performance, in which Vice-President-elect Mike Pence was in attendance, the audience booed him, and the cast delivered a Lin-Manuel Miranda–penned, heartfelt speech after the show, imploring compassion on the part of our new administration. Since that moment, the nation has continued to be divided on whether or not the cast was "rude" to Pence, whether the musical should be boycotted, and whether or not the cast should apologize (according to Brandon Victor Dixon, the cast member who spoke up, the answer is no). But of all the divisions such a moment has created in this volatile land of ours, we'd never have expected this show to create a rift down the center of that very American of institutions: the E Street Band. This weekend, Bruce Springsteen and his wife Patti Scialfa attended a matinee of Hamilton and posted a selfie of the experience with the tag "Looking for VP Mike Pence"; for the stoic yet politically engaged Boss (affiliation: Democrat), this can easily be interpreted as pro-Hamilton. Bruce's right-hand man, Steven Van Zandt, however, feels differently. Van Zandt (affiliation: Independent) tweeted his light condemnation of the moment, arguing that the cast's statement was a form of "respectful, benign bullying" and that human rights must be "won, not asked for." Say it ain't so, guys! If there's a crack down the middle of E Street, what hope do the rest of us have?
From Patti: "@HamiltonMusical Sunday matinee -- looking for VP elect Pence #freedomofspeech" https://t.co/yGwJyiEp46 pic.twitter.com/eZEnu7F1pl

— Bruce Springsteen (@springsteen) November 20, 2016
It was the most respectful, benign form of bullying ever. But bullying nonetheless. And by the way, human rights must be won, not asked for. https://t.co/JfN4yjq8jM

— Stevie Van Zandt (@StevieVanZandt) November 19, 2016