Here's an Upside-Down Stranger Things Table Read
Yep, the gang's all here.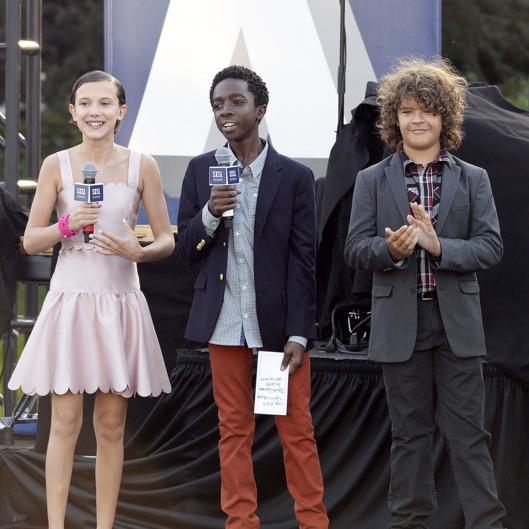 Stranger Things is back in production for season two, and yes, it's confirmed: Millie Bobby Brown will be returning, as will the rest of the kid cast. That was revealed today when the Netflix show's official Twitter account shared a delightful image of everyone (under the age of 30) in the cast at a table read ... except — spoiler alert — upside down. There's Ms. Brown right in the middle, sporting her trademark "I'm growing my hair out" headband. Variety is reporting that the photo also includes a few new cast members: Sadie Sink — who'll play "suspicious tomboy" Max — and Dacre Montgomery, who'll play Max's "Camaro driving older step-brother." (Sink has also been pegged to play a tween Lori in the forthcoming adaptation of The Glass Castle, starring Brie Larson, and she once starred as Annie on Broadway; Montgomery is Australian and therefore, hot.) The photo also included a cryptic message, clearly in some runic language we'll have to learn before the next season begins. JK, it's just upside down, too. We see what you're doing, Stranger Things! We love you, never change.
sƃuıɥʇɹǝƃuɐɹʇs#
ɹɐǝʎ ʇxǝu noʎ ǝǝs
uoıʇɔnpoɹd uı ʞɔɐq pic.twitter.com/jYd1tDsPRi

— Stranger Things (@Stranger_Things) November 4, 2016