After a Year and a Transfer to Broadway, The Humans Will Go on a National Tour
It'll start in Seattle next November.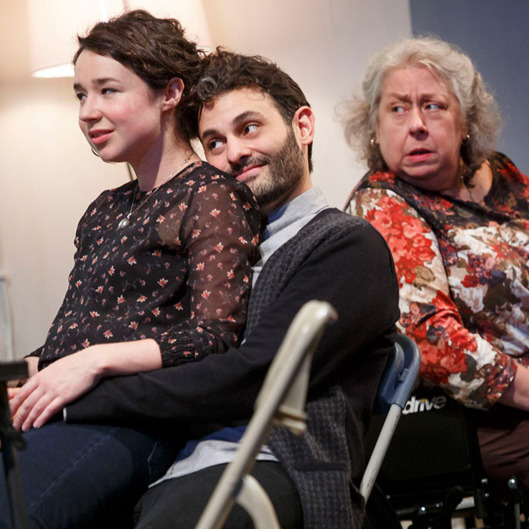 After a 502-performance run in three houses, The Humans is set to close out its time in New York. The 2016 Tony winner for Best Play will end its run at the Schoenfeld on January 15, as previously reported, and will not move on to yet another New York theater. However, this unusual play's unusual life is hardly over: Producers Scott Rudin and Barry Diller announced today that the drama will launch a national tour in November 2017, starting at the Seattle Repertory Theatre, with a more complete schedule to be announced later on.
"I still can't believe the show's been able to get the reach that's it's had," playwright Stephen Karam said of the success of The Humans, as it's rare for any play, especially a serious drama, to make a transition to Broadway, much less arrive at a national tour. "It's crazy for it to find such an audience." The Humans opened at the Roundabout's Laura Pels theater last fall before transferring to the Helen Hayes Theatre in February, and then the larger Schoenfeld in August. Throughout, it managed to retain its cast, including Reed Birney and Jayne Houdyshell, who both won Tonys for their roles, as well as Lauren Klein, Arian Moayed, Cassie Beck, and Sarah Steele and the same director, Joe Mantello. "It has been a miracle to keep this family together," Karam said. That luck will continue with the national tour, which Mantello will direct, aided by the creative team from the Broadway production (scenes by David Zinn, costumes by Sarah Laux, lighting by Justin Townsend, and sound by Fitz Patton). The casting is still up in the air.
The tour also gives The Humans the chance to speak to a changed America. "I think the election changes probably everything," Karam said, "but in this particular play, I think it changes it in a powerful way." The Humans centers on the relatives of a struggling artist visiting her and her boyfriend in New York, presenting their conflicting perspectives on money, class, sexuality, and even 9/11. "It is a play about these big anxieties," Karam said. The parents hail from Pennsylvania, much-contested in the recent election, and Karam imagines that the father, played by Birney, could have been the kind of Pennsylvania voter who supported Bernie in the primaries, but shifted to Trump during the general election. In small ways, Karam said, responses to the work have already started to change. A few jokes, including a sarcastic line about how trust funds make America powerful, now land with "a particular bite, or sting, or something that I can't even name."
Karam doesn't expect, or want, the runaway success of The Humans to affect how he imagines the reception of his future output. He has several projects in the works and plans to continue to "create stories I feel in my heart and my gut" while collaborating with artists he admires. The goal is to stay specific, and keep his head down. "Writing a play to get to Broadway and have a national tour," he joked, "is a sure way to write a terrible, terrible play."