Darren Aronofsky Bribes Students to Vote, Offers Casual FaceTime Call With Jennifer Lawrence
Pulling out all the stops.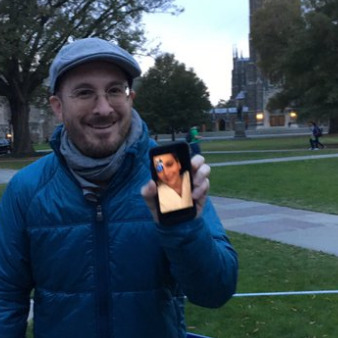 Jennifer Lawrence and boyfriend Darren Aronofsky were determined to get students to vote on Tuesday. That's how Aronofsky, a Clinton supporter, ended up in North Carolina, at the Duke University campus, on Election Day. According to People, he encouraged students to vote by offering them something slightly better than a sticker: a chance to FaceTime with Jennifer Lawrence. He even offered rides to the polls, tweeting, "History will be made in #northcarolina. join me tomorrow at DUKE university chapel 1130-5pm to get a ride to the polls #dukevotes #imwithher." See tweets of Aronofsky getting the vote out below.
I just casually FaceTimed with Jennifer Lawrence. Darren Aronofsky is the man 👌🏻 pic.twitter.com/Pjx8oBapgJ

— Ethan Udell (@EthanUdell) November 8, 2016
When Jennifer Lawrence's boyfriend is on campus bribing students to go vote in exchange for a FaceTime with her 😂😂 #ElectionDay

— Maria (@espinosamaria7) November 8, 2016
history will be made in #northcarolina. join me tomorrow at DUKE university chapel 1130-5pm to get a ride to the polls #dukevotes #imwithher

— darren aronofsky (@DarrenAronofsky) November 7, 2016