Martha Stewart and Snoop Dogg's Unexpectedly Adorable Friendship: A Timeline
Taking "friendship goals" to a whole new level.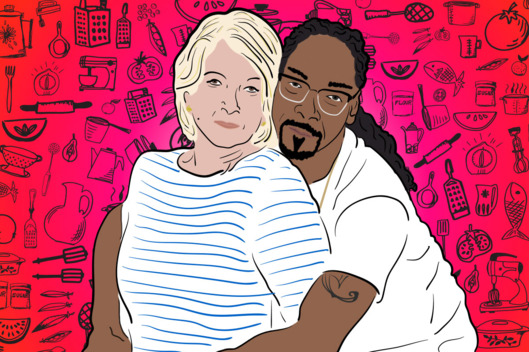 In this dumpster fire of a year we call 2016, there is at least one shining light at the end of the tunnel: Martha Stewart and Snoop Dogg are hosting an eccentric new cooking show on VH1 called Martha & Snoop's Potluck Dinner Party, set to debut on November 7. While the news was met with the collective sound of confused huhs, the two have actually enjoyed a rather well-documented friendship that extends back to 2008 when Snoop first made an appearance on Stewart's former talk show Martha. In celebration of their new cookery collaboration, we've broken down the history of their long, winding friendship.
November 2008: The duo compare preferred mashed-potato techniques, discuss vocabulary words, and make a starchy meal on Martha. After their segment, Stewart wrote on her blog about the "Snoop-guistics" that she learned: "He and his posse add 'izzles' onto the ends of words. It's kind of a code, or a way of communicating so that others won't know what they're talking about. Example: fo shizzle is how they say, for sure."
December 2009: For an episode on Martha called "The Christmas Cookie Show," they make special Christmas brownies. "He wanted us to make green-colored brownies," Martha joked. "How come green?"
December 2010: Snoop solicits Martha's help for a "bachelor party" he's throwing for Prince William.
@marthastewart hi sunshine. need some goodies for Prince Williams bachelor party. i got the tracc #WET u get the snacks @clarencehouse

— Snoop Dogg (@SnoopDogg) November 30, 2010
May 2013: Snoop tweets a cute photo of the two during their brownie-baking days, with some added accessories.
ayo @marthastewart watchu bakn !! #snoopify pic.twitter.com/o8Oes8A7XJ

— Snoop Dogg (@SnoopDogg) May 8, 2013
March 2014: During a Reddit AMA session, Martha says she wishes she were "closer friends" with Snoop, and that she's "never tasted" his cookie recipes. (She even requests that he join the AMA halfway through, writing "Where's Snoop? I have brownies FOR YOU!")
November 2014: Snoop cites Martha as the inspiration behind a limited-edition candle he sold with his family.
S/o to @MarthaStewart inspiration for my #broadusfamilycollection premium candles on http://t.co/u2GqmY2dfu pic.twitter.com/0szQGdjYmM

— Snoop Dogg (@SnoopDogg) November 20, 2014
June 2015: Martha encounters Snoop at Justin Bieber's Comedy Central Roast earlier this year, where she got "totally high" by just sitting next to him during the four-hour taping session. She explains what that means during an episode of Late Night With Seth Meyers.
July 2016: The domestic diva and rapper compete together on an episode of ABC's $100,000 Pyramid reboot. Martha tries to get Snoop to name fancy household items, and they do very well.
August 2016: It's announced that the dynamic duo will be headlining a show for VH1, called Martha & Snoop's Potluck Dinner Party. Each week, they will host celebrity friends for a "half-baked evening of cocktails, cooking, conversation, and fun where nothing is off limits."
This fall @SnoopDogg and I are teaming up to throw the best dinner party ever on @VH1. #MarthaSnoopDinnerParty pic.twitter.com/vDZbb1lJfS

— Martha Stewart (@MarthaStewart) August 8, 2016
September 2016: In an interview with Rolling Stone, Snoop gives a little bit of insight into their unique relationship. "I've never met anyone like Martha Stewart," he said. "When we come together, it's a natural combination of love, peace, and harmony."
September 2016: They show off their selfie skills.
Snoop is cool!! And he can cook! Sort of !!! His way , which is unique and interesting , about to be revealed on vh1 pic.twitter.com/P8K6xivaEG

— Martha Stewart (@MarthaStewart) September 10, 2016
September 2016: Snoop gifts Martha an illustration of a dog, which he painted himself.
This is an original Snoop Dogg painting, and Snoop gave it to me as a gift! Very nice, don't you think? pic.twitter.com/a1AOjWsgXT

— Martha Stewart (@MarthaStewart) September 30, 2016
October 2016: They appear on an episode of Ellen to tease their upcoming show, where a game of "Never Have I Ever" with Anna Kendrick turns a bit wild.
November 2016: After a few teasers, a full, celebrity-packed trailer for Martha & Snoop's Potluck Dinner Party is officially released. Bon appetit!