Sicario Screenwriter Needs to Talk to Emily Blunt About How He Couldn't Figure Out a Way to Put Her in the Sequel
"That was my decision, and at some point I'm going to have to talk to her about it."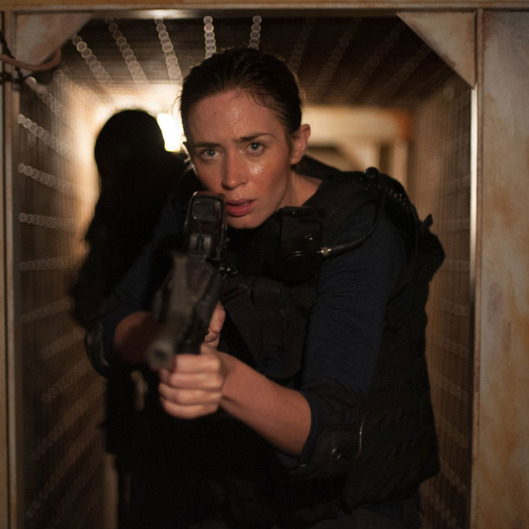 One would think a studio wouldn't take too kindly to the words, "I can't write Emily Blunt into the movie." Figure it out, they'd presumably cry. Just throw in a few dozen cutaways to Blunt, standing in front of a green screen, giving everyone a big thumbs up if you have to. Sicario screenwriter Taylor Sheridan, however, declined to include Blunt's F.B.I. agent Kate Macer in the film's upcoming sequel Soldado because it wouldn't make sense. Huh, well ... hard to argue with that. "That was my decision, and at some point I'm going to have to talk to her about it," Sheridan explained in an interview with the Wrap. "Her arc was complete … I couldn't figure out a way to write a character that would do her talent justice." All of which might constitute an insight into why Soldado will reportedly focus on Benicio Del Toro's assassin character.
Sheridan has a good sense of humor about it, though: "What do you do next? She moves to some little town and becomes a sheriff and then gets kidnapped and then we have Taken? I had to tell the story that was true to this role, and I didn't feel like I could create something with that character that would further that world that would do Emily's character justice. That said, there could be room for Kate somewhere else down the road." Seeing as how the series is rumored to have been expanded into a trilogy, the third film could very well have Blunt written all over it. Literally, her name would be in it, because Emily Blunt would herself be a character. The studio is going to love it.