Stephen Colbert and John Oliver on Covering Trump As Late-Night Hosts
Colbert recalls his live Election Night Showtime special.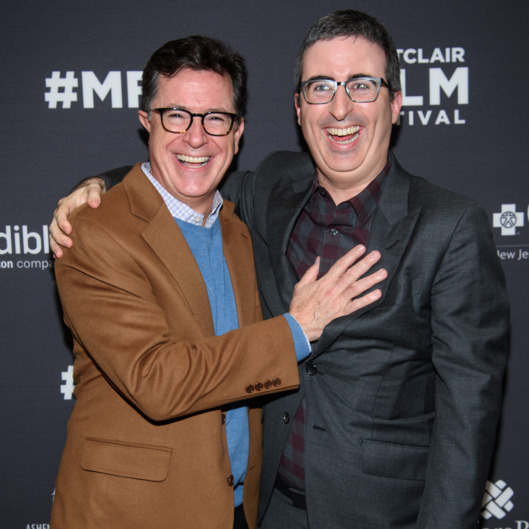 Late Show's Stephen Colbert and Last Week Tonight's John Oliver have a long four years ahead of them, which is why they took the time on Saturday to discuss covering Trump, and looking for substance during this past election. According to EW, they spoke about how to move forward under a Trump presidency at a fundraiser for the Montclair Film Festival, and called the conversation, "Wow, That Was Weird," because there are still no words. John Oliver pointed out that he was worried about "normalizing" the Trump presidency. "I think the danger of 'live your lives, the sun comes out tomorrow' is that that's true for some people, and so it's very easy to forget that it's very much not for others," Oliver said. "That's the danger. If you are lucky enough for your life to become routine, it's easy not to feel the pain of others whose routines are going to be shattered. Not everyone is going to be okay, so it's incumbent on everyone to remember that. This whole process has not been fun, because it's the inverse version of what we normally do," Oliver added. "When covering a campaign, you try and take things of substance and put some sugar on it to make it palatable. But there was so little of substance this whole campaign — it was just a diabetes-inducing level of sugar, that your job kinda flips on its head. You're just trying to find a way to inject substance into sugar. We spent so much time thinking about framing devices, trying to figure out how to make something out of nothing." Colbert agreed that this past election had been particularly difficult to cover, and when he brought up his live Election Night Showtime special, confessed: "That show was the hardest thing I've ever done in my entire life. You couldn't cut to commercial either. We had a bunch of made-up commercials, but none of them were appropriate once we knew we were playing to an audience of the condemned. My audience was sobbing openly. Who can make jokes to a sobbing audience?" Hopefully Thanksgiving dinner will not have any open sobbing, but no one can be sure.