Sting Reopens Bataclan One Year After Paris Attacks
"We will not forget them."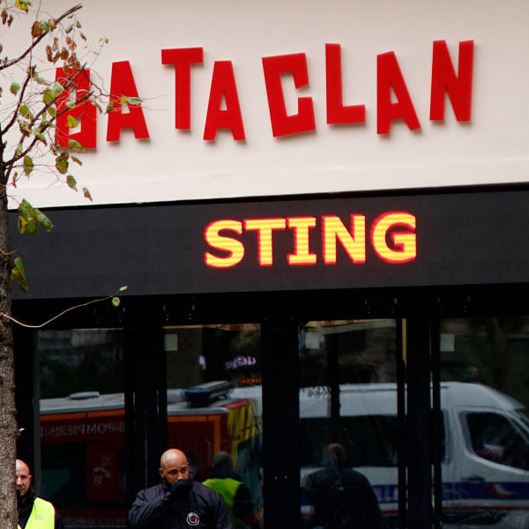 A year after extremist suicide bombers claimed the lives of 130 people in Paris's Bataclan concert hall, the scene of the evening's deadliest attack reopened Saturday with a concert held by Sting. The English singer-songwriter began with a moment of silence for the innocent lives lost in the attacks, remarking in French to the intimate crowd: "We've got two important things to do tonight. First, to remember and honor those who lost their lives in the attacks a year ago, and to celebrate the life and the music of this historic venue." He then launched into a mix of his solo and Police work, which included renditions of "Fragile," "Message in a Bottle," "Inshallah," "Roxanne," and "Every Breath You Take." Sting will donate the entire proceeds of the show to two charities that support the survivors of the attacks. While no official video of his performance has yet to be released, you can view social-media posts about it below.
Début du concert de réouverture au #Bataclan #Sting en Français se recueille à la mémoire des victimes. pic.twitter.com/CjaJ8EEHhL

— J-Francois Belanger (@belangerjf) November 12, 2016
Début du concert de #Sting au #Bataclan Fragile pic.twitter.com/IPi4hmXBT7

— J-Francois Belanger (@belangerjf) November 12, 2016
Sting transforms The Bataclan back into what it always was. A concert venue. pic.twitter.com/sps9pdsSEx

— Nick Garnett (@NickGarnettBBC) November 12, 2016
The final notes of tonight's concert to mark the reopening of The Bataclan by Sting. The applause goes on for three minutes pic.twitter.com/sh7l4b0BpF

— Nick Garnett (@NickGarnettBBC) November 12, 2016