Theater Review: Nicky Silver Tries to Move On, With This Day Forward
Ordinary crazies lead ordinary lives.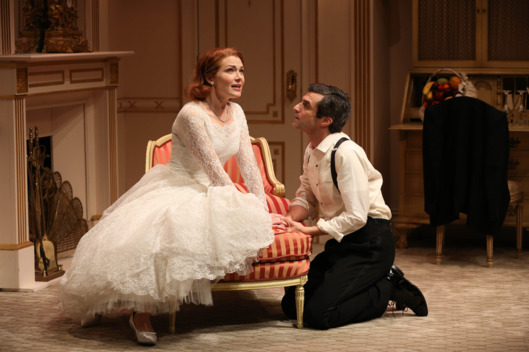 When asked in a recent interview what inspired him to write This Day Forward, the playwright Nicky Silver immediately answered, "other writers' successes." If only any line of the play itself, which opened tonight at the Vineyard, were as sharp and funny. But this dry hump of a comedy, with affectations of tragedy stapled in, got me to laugh, or rather snort, only once: when a character asked his lover, before having sex, to "turn that picture of you with Hal Prince to the wall." There was the old, absurd Nicky Silver! The rest of the time the audience and I sat dully absorbing the manic yet enervated and totally non-credible action as it attempted to gin up a Big Theme as justification.
"Shared misery doesn't make people partners" may be the best stab at that theme; the play is about a badly married couple and how their decision to stay together ruins their children. (We get the 1958 wedding night in the first act, the grown-up kids in 2004 in the second.) Also involved are a grease-stained galoot, a larcenous room-service waiter, a sweet-tempered hunk, and a sharp-tongued Polish maid, as if Tennessee Williams, Joe Orton, Terence McNally, and Christopher Durang had been thrown in a juicer that short-circuited mid-juice. Perhaps add Silver himself to the recipe: His earlier, better comedies are faintly discernable floating in the midst of this one. And Linda Lavin, Silver's sometime muse, may be bobbing around in there, too.
What happened? From the evidence of This Day Forward, Silver covets other writers' successes less than he does their acceptance into the coterie of the serious. Over the years, the wild strain of surrealism he brought to plays like Pterodactyls and Raised in Captivity has curdled as he tried to bottle it. In those earlier works, many of which were also premiered by the Vineyard, you felt that the unhinged logic of the language was more than enough to make up for the irrationality of the characters. In fact, it was the only language fit to express their irrationality. By the time of The Lyons in 2011 — in which Lavin made a meal of a Silver-tongued monster mother — that approach had passed its apogee, but he just kept heading in the same direction. Subsequent attempts to provide characters with motivations that track more closely to the outer world have not only come up short but made them duller while robbing the surrealism of its fuel. The result in 2014's Too Much Sun was a deracinated sitcom that was somehow (as I wrote at the time) both obvious and outré. This Day Forward is a degree or two further down the trajectory. Its people are just ordinarily crazy, not fantastically so. And ordinarily crazy people are no fun.
Nor can they be very tragic, if you hate them — as I defy you not to do. Despite the laborious efforts of the cast, working under the direction of Silver's longtime collaborator Mark Brokaw, they are unable to enlist the audience in any kind of sympathy. (It's not their fault.) The most they can do is deliver the theme experientially. Shared misery doesn't make people partners? You said it.
This Day Forward is at the Vineyard Theatre through December 18.