Critics Finally Saw Martin Scorsese's Silence, And They Think It Was Worth the Wait
The Jesuit priests, however, have not yet given a hot take.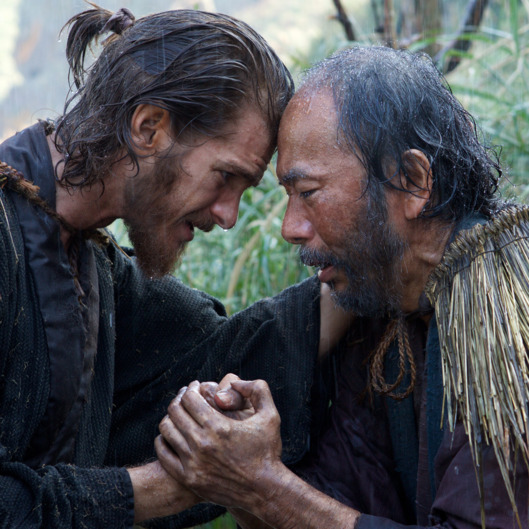 Silence, Martin Scorsese's long-gestating passion project, adapts Shusaku Endo's novel of the same name about Jesuit missionaries in Japan. Of course, while the film's stars Andrew Garfield and Adam Driver might've gotten really good at the whole vow of silence thing, film critics are vocationally incapable of such restraint. And so, the first round of critics to finally see the drama — it only took 27 years and some change from when Scorsese first started working on it — are already responding to the film with, yes, rapturous acclaim. And thank, well, God for the critics, because those Jesuits priests who saw Silence at the Vatican have been awfully withholding of the hot takes. Read on for some early stoking of the Silence flames.
I saw SILENCE today, followed by JACKIE. I need several drinks.

— Matt Zoller Seitz (@mattzollerseitz) December 1, 2016
I saw SILENCE twice today. First time, I was absorbed, impressed, moved. Second time, I was in tears. One of Scorsese's greatest films.

— Life's Scary Enough (@BilgeEbiri) November 30, 2016
Second screening revealed it to be one of Scorsese's most beautifully structured & composed films. And made me appreciate Neeson a lot more.

— Life's Scary Enough (@BilgeEbiri) November 30, 2016
SILENCE is a tortured & fascinating examination of faith in all its forms. a valuable counterpoint to Shinoda's film. being Jewish is chill.

— david ehrlich (@davidehrlich) December 1, 2016
one of the things I love about SILENCE is how it confronts - but doesn't judge- the potential arrogance & imperialism of missionary work.

— david ehrlich (@davidehrlich) December 1, 2016
I did not tweet a reaction to SILENCE, which I saw today.
By staying quiet, am I expressing my divinity or dislike?
(Pray on that!)

— (((Jordan Hoffman))) (@jhoffman) December 1, 2016
SILENCE is beautiful and heartfelt. All Good Friday, as with most Scorsese. Very little Easter Sunday.

— DrewMcWeeny (@DrewMcWeeny) November 30, 2016
Silence finds Andrew Garfield at his best and Martin Scorsese at his most restrained, contemplative. A faith-based drama for the rest of us.

— Michael Nordine (@slowbeard) December 1, 2016