Celebrities React to Obama's Farewell Speech
Katy Perry, George <span>Takei</span>, Shonda Rhimes, Jesse Williams, and others took to social media.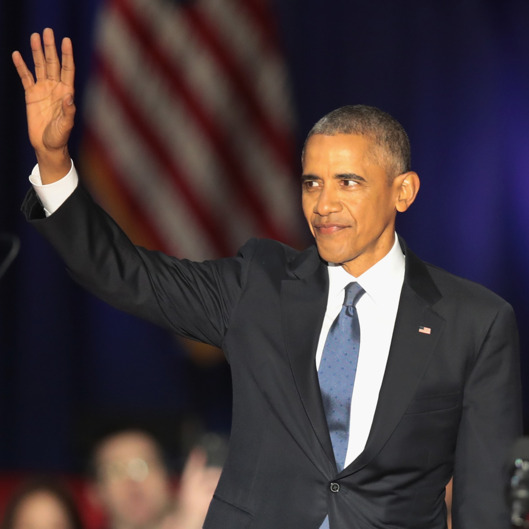 During Barack Obama's final speech in office, and in the moments after, many celebrities took to social media to pay their respects to the 44th president. While some chose to share personal memories of meeting POTUS, others commented on the speech itself. Of course, more than a few also got in a few jabs — both direct and lightly veiled — at the next guy taking over the job. Donald Trump has yet to respond to Obama's speech; he might be a bit preoccupied right now.
Hope you enjoyed Obama's speech. You won't hear anything so cogent and kind for a long time. So, with complete sincerity: THANKS, OBAMA.

— Stephen King (@StephenKing) January 11, 2017
Already crying. Love my president #FarewellAddress @BarackObama

— Gabrielle Union (@itsgabrielleu) January 11, 2017
So grateful to you @POTUS for all you have done for us these last 8 years! Your dignity and strength. God Bless you and your family.

— Kathy Bates (@MsKathyBates) January 11, 2017
YES WE CAN #obamafarewell

— kerry washington (@kerrywashington) January 11, 2017
We have a lot of work to do to earn you, @POTUS

— Jordan Peele (@JordanPeele) January 11, 2017
This #ObamaFarewell is beautiful. The love. Could Trump soak up all this warmth?

— Patton Oswalt (@pattonoswalt) January 11, 2017
From here with the Young Senator from Chicago to tonight. #obamafarewell. We will miss you. pic.twitter.com/B9pPJ3p1CC

— Sharon Stone (@sharonstone) January 11, 2017
Watching Obama's final address, and realizing how very, very far we are about to descend. Farewell, O Captain my Captain! Heavens save us.

— George Takei (@GeorgeTakei) January 11, 2017
.@POTUS @BarackObama I love you more than I have space on Twitter to describe. #ObamaFarewell

— Ellen DeGeneres (@TheEllenShow) January 11, 2017
The beauty you don't deserve

— jesse Williams. (@iJesseWilliams) January 11, 2017
Me right now 🙏🏻 https://t.co/gW55C1wrwd

— KATY PERRY (@katyperry) January 11, 2017
Thank you, thank you, thank you from my heart, Mr. President. @BarackObama pic.twitter.com/AV9yNUwmaR

— Nancy Sinatra (@NancySinatra) January 11, 2017
I will miss @Barackobama so much he has a big heart, represents everything that is America, and has limitless compassion for the people 😢😢😢😢

— Jay Pharoah (@JayPharoah) January 11, 2017
Here to show our love for our Potus. #obamafarewell https://t.co/8JG5FRW955 pic.twitter.com/raZCfhSGhT

— shonda rhimes (@shondarhimes) January 11, 2017
champagnepapi As a Canadian that calls America home for part of the year I will always carry your words and the memory of your time in office with me as inspiration. Big up yaself O.