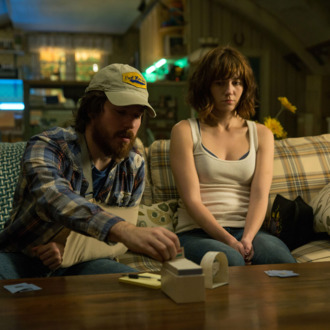 At the beginning of (and throughout) every month, Amazon Prime and Amazon Instant Video add new movies and TV shows to their libraries. Some of these may also have previously been on Amazon, only to have been removed and then added back. For more comprehensive coverage of the best titles available on Amazon and elsewhere, check out Vulture's What to Stream Now hub, which is updated throughout the month.
Doomsday delivery: 10 Cloverfield Lane
If the only consistent thread to the Cloverfield films is the element of surprise, that would be perfectly okay. Dropped in theaters with little advance notice, Dan Trachtenberg's follow-up to J. J. Abrams's 2008 sci-fi thriller shares little in common stylistically with its predecessor, trading the found-footage approach for a tightly shot and constructed chamber piece that alludes more to Hitchcock than to bug-zapper epics. Mary Elizabeth Winstead, as a young woman being held prisoner in a fallout shelter, and John Goodman, as her survivalist captor who insists the outside world has gone to hell, take their roles in this genre exercise seriously. Available on Prime February 24.
Get your goat: Nuts!
Come one, come all, and experience the incredible, too-good-to-be-fake story of all-American huckster John Brinkley! During the Great Depression, this Kansas quack pretended he could cure impotence by sewing goat glands into human testicles … and swarms of people lined up for the miracle cure. With eccentric animation, Penny Lane's riotously entertaining documentary gives us the best possible view of the Brinkley story: first by letting its subject pretend he was simply a misunderstood medical genius, then by diagramming precisely how he was caught building a cult personality around nothing of value whatsoever. Generations later, is the American public still susceptible to this breed of power-hungry con man? You tell me. Available on Prime February 1.
Lost in the world: Planet Earth II
The natural world can be a harsh, cruel, unyielding place, but we need it to remain healthy in order to survive. You knew that, right? To those who watched the original 2006 BBC series on their new HDTVs, the new sequel (the first show from the network to be filmed in 4K) arrives at too urgent of a time to be dismissed as mere stoner fare. As you take in the islands, mountains, jungles, and deserts under Sir David Attenborough's soothing tones, remember: Despite this show's title, there is no sequel to this planet. Available for purchase February 19.
Noteworthy selections in bold.
TELEVISION
Available on Prime   
Creative Galaxy Heart Day Special (February 7) 
The Americans Season 4 (February 15)         
The Collection Season 1 (February 10)
The Tunnel Season 1 (February 21)          
Available for Purchase
Bizarre Foods with Andrew Zimmern Season 20 (February 1)
Steven Universe Volume 6 (February 2)
Mighty Magiswords Volume 2 (February 4)
The Dead Files Season 10 (February 5)
24: Legacy Season 1 (February 6)
The Detour Season 2 (February 6)
MasterChef Junior Season 5 (February 10)
Full Frontal with Samantha Bee Season 1 (February 16)
Planet Earth II (February 19)
Bates Motel Season 5 (February 21)

MOVIES
Available on Prime
The Care Bears Movie (February 1)
Dead Heat (February 1)
Diamonds Are Forever (February 1)
Die Another Day (February 1)
Drop Zone (February 1)
Escape from Alcatraz (February 1)
The Firm (February 1)
Forces of Nature (February 1)
Frankie & Johnny (1991) (February 1)
Goldfinger (February 1)
Hook (February 1)
Hoosiers (February 1)
I Went Down (February 1)
Into the Wild (February 1)
Judgment Day (February 1)
Kiss the Bride (February 1)
The Living Daylights (February 1)
Live and Let Die (February 1)
Man With the Golden Gun (February 1)
Margin Call (February 1)
My King (February 1)
Never Say Never Again (February 1)
Nuts! (February 1)
Octopussy (February 1)
Payback (February 1)
Pretty in Pink (February 1)
Rob Roy (February 1)
The Running Man (February 1)
Sabrina (1954) (February 1)
Sabrina (1995) (February 1)
Soapdish (February 1)
The Spy Who Loved Me (February 1)
Teen Wolf (1985) (February 1)
Thelma & Louise (February 1)
Untamed Heart (February 1)
Wild Bill (February 1)
The World is Not Enough (February 1)
You Only Live Twice (February 1)
Yellowbird (February 4)
Hostile Border (February 6) 
American Teen (February 15)  
Author: The JT Leroy Story (February 16)
10 Cloverfield Lane (February 24)
Touched With Fire (February 26)
Captain Fantastic (February 27)
Havana Motor Club (February 27)   
Available for Purchase
The Edge of Seventeen (January 31)
The Dead Files (February 5)
Desierto (February 7)
Legion (February 9)
Doctor Strange (February 14)