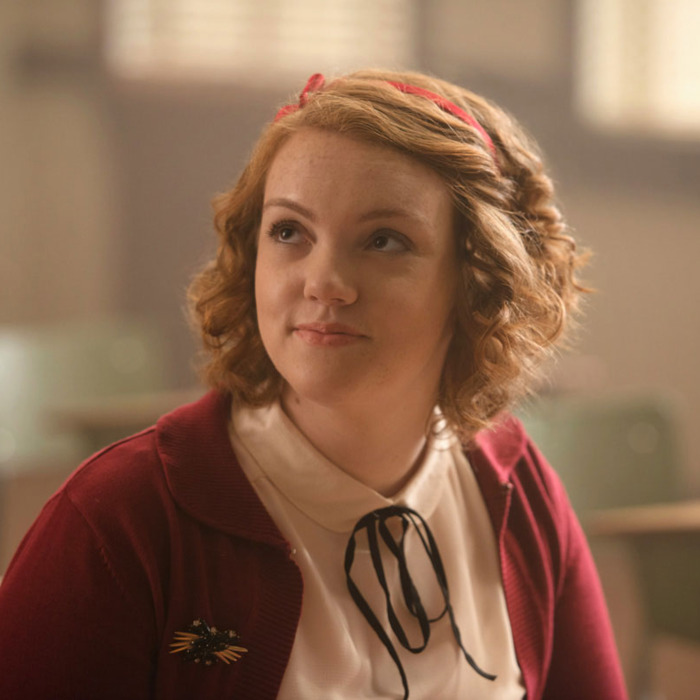 Spoilers ahead for the third episode of Riverdale.
It's highly unlikely you were able to make it out of 2016 without hearing some iteration of the phrase "Justice for Barb." Barb was one of the most adored — albeit short-lived — characters on Netflix's sci-fi-horror extravaganza Stranger Things, whose effortlessly awkward combination of oversize specs, mom jeans, and mop of red hair served as the perfect foil to her social-climbing best friend, Nancy. If only we were all so lucky to have a friend like Barb, who could put us right in our place with a pointed quip or reprimand us with some side-eye when we were talking utter preppy nonsense. But it all came crashing down when Barb was devoured by a truly horrendous-looking Demogorgon while waiting for Nancy on the diving board of her new boy toy's pool. By season's end, Barb's friends discover her slime-covered, rotting corpse in the Upside-Down. And the #JusticeforBarb fan base was born.
With Things' first season comfortably in the past, we're here to be the bearer of good news. Shannon Purser, the lovely young actress who made her acting debut portraying Barb, has a new recurring role on the CW's gritty Archie-universe drama Riverdale, as Ethel Muggs, and she's treated like a goddamn hero in her debut episode this Thursday.
The circumstances as to why Purser's character is introduced aren't too pleasant, though. Following a seemingly nice date Veronica (Camila Mendes) goes on with the school's football star, her good feelings soon come to an abrupt halt when he posts a lewd selfie of the two of them on social media the following day. (Something known as a "sticky maple," for some small-town reason.) After an investigation by budding journalist Betty Cooper (Lili Reinhart), it's discovered that many varsity football players have been viciously mistreating the school's young women for years, going so far as to use a scoring system in a secret book to keep track of their respective "conquests." Betty organizes a meeting with a few female students who want to share their troubling experiences, and Ethel is the first to go on the record about a supposed library hookup between her and the football star that never happened. "They're ruining our lives, and to them it's just a game," she tearfully recalls to the supportive group. Cheryl (Madelaine Petsch) barges into the meeting in an attempt to undermine the credibility of Ethel's story, but Veronica will have none of it and chews Cheryl out. She calls Ethel a "beautiful, young, strong, intelligent" woman for her bravery.
The rest of the episode's narrative is primarily driven by Ethel's actions. She brings in a friend who used to be on the football team to confirm the veracity of the secret book. After a productive late-night sleuthing session, the gang finds it relatively easily. With indisputable evidence, a scathing front-page exposé in Riverdale High School's newspaper then forces the football coach (and father to the star player) to cut all of the transgressing players in order to save the team and school's reputation. As students linger in the hallway to witness the parade of jocks getting booed and jeered by fellow students after their sentencing, the following conversation takes place between our four female leads.
Ethel: Thanks, Betty. Thanks, Veronica.

Betty: Thank you, Ethel, for going on the record. It made all of the difference with Weatherbee [the school's principal].

Veronica: You're the bravest of them all, Ethel Muggs.

Cheryl: Hashtag, Justice for Ethel.
A bit tongue in cheek? Maybe. Something we've been waiting to hear since last summer? Absolutely.