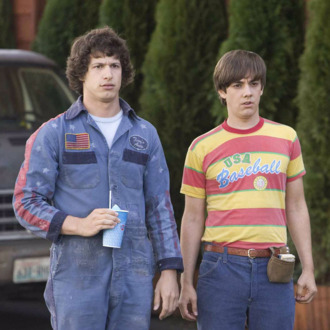 Each month, several films and TV shows leave Showtime's catalogue. We provide a list of departing titles so you can watch them before they're gone forever (or are just available on a different site). For more comprehensive coverage of the best titles available on Showtime and elsewhere, check out Vulture's What to Stream Now hub, which is updated throughout the month.
Cool beans: Hot Rod
There's something about Andy Samberg and the Lonely Island's silly brand of humor that keeps them from succeeding on the big screen. Years before Popstar: Never Stop Never Stopping flopped at the box office, their inaugural feature-length effort about an Evel Knievel wannabe also disappointed, only to reemerge later as a cult comedy. Though more character-driven than its successor, Hot Rod still packs in the gags with gleeful abandon, from a two-wheeled crash that lasts entirely too long to a jerk rival (Will Arnett) who can't call his girlfriend anything but "babe." Leaving March 31.
Dead pixels: Atari: Game Over
Video-game nerds are well aware of Atari's infamous folly that almost killed video games for good: the expensive and virtually unplayable adaptation of E.T.: The Extra-Terrestrial, which angry children returned to stores en masse during the 1983 Christmas season. This fleet-footed documentary digs deep into the story, in more ways than one. First, director Zak Penn gathers former programmers to recount the Titanic-like cockiness of a gaming giant that believed it could do no wrong. Then, the filmmakers mount an archaeological dig in the New Mexico landfill that serves as the final resting place of all those unwanted E.T. copies. Suffice to say, the worst game of all time becomes more palpable when it's the object of a massive, smelly, geek-fueled treasure hunt. Leaving March 30.
In the name of love: Pride
"Lesbians and gays support the miners!" That's the rallying cry of the unlikely alliance from this historical drama, which follows British gay-rights groups who joined forces with striking miners in 1984 to make a statement about the power of activism. Simple and fluffy, with a cast of every pleasant British actor known to man, Pride shouldn't work as well as it does — but dammit, this a shameless fist-in-the-air triumph. Leaving March 31.
Notable selections in bold.
Leaving March 1
Deal
Leaving March 3
The Discoverers
Leaving March 11
The Best Man
Leaving March 16
Underclassman
Leaving March 18
Traffic
Leaving March 19
High Tension
Leaving March 21
Showgirls
Leaving March 24
Take Care
Leaving March 26
Dreamcatcher
Leaving March 27
The Imitation Game
Flyboys
Gangs of New York
Leaving March 30
Atari: Game Over
Death Squad
In The Shadows
Leaving March 31
Andrew Dice Clay Presents the Blue Show
Arctic Tale
Blowback
The Entitled
Exists
Fargo
Hidden in America
Hot Rod
National Lampoon Presents Cattle Call
The Next Hit
The Original Kings of Comedy
Pride (2014)
Shopgirl
State Property 2
War
Zoolander