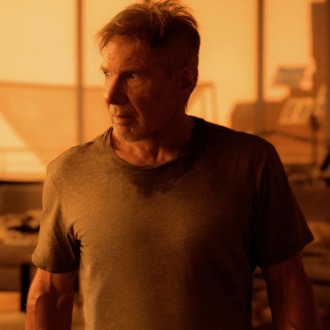 Harrison Ford in Blade Runner 2049.
The big studios held court during the Vegas fest CinemaCon this week, giving updates on their summer and awards' season sure-things. In between talking up seeming slam dunks (Dunkirk, Blade Runner 2049) and talking around the premium-VOD-rental debate, there were smaller updates from other anticipated titles. Here are the highlights from the convention's news cycle — basically, we kept up with millions of CinemaCon Tweets so you didn't have to.
Blade Runner 2049
"Prepare to start going steady with the edge of your seats," Ryan Gosling joked during the presentation for the Blade Runner sequel Blade Runner 2049. Sony shared another preview from the Denis Villeneuve–directed movie that teased the return of Harrison Ford's Rick Deckard and the introduction of Gosling's character Officer K. According to Variety, CinemaCon attendees got a glimpse of Jared Leto "lovingly caress[ing] a naked android."

Dunkirk
The buzz around Christopher Nolan's World War II epic Dunkirk has cooled since fans learned it would arrive with a PG-13 rating. But Nolan's CinemaCon presentation drummed up support around the movie, and also made for an awkward moment. After a Warner Bros. executive talked up their pending premium-VOD negotiations, the director declined to join in on the praise. "The only platform I'm interested in talking about is theatrical exhibition," he said.
Spider-Man: Homecoming
A new trailer showing more of the forthcoming Spider-Man installment came out during CinemaCon. We also got a better look at how the new movie will handle the Vulture (Michael Keaton), which includes having his business interests undermined by Tony Stark.
Untitled Paul Thomas Anderson Film
We have a lot of ideas about this upcoming collaboration between PTA and Daniel Day-Lewis. While most of the plot is still under wraps — Vulture made a pretty good educated guess last summer — Focus Features did announce that the movie will get an Oscar-qualifying Christmas Day release.
Downsizing
Matt Damon shrinks down to a much more manageable size in Downsizing, Alexander Payne's new comedy. Damon and Kristen Wiig play a couple who come up with a bizarre money-saving plot: shrinking to a miniature size through surgery. Paramount played the first ten minutes of the movie, which co-stars Christoph Waltz; Variety called it "funny."

Jumanji: Welcome to the Jungle
The biggest shocker about the upcoming Kevin Hart-Jack Black-The Rock Jumanji movie is that won't feature the board game that kicked off the action in the book and the first movie. Instead, Jumanji will be a video game in this update. Kids these days!

Annihilation
A few minutes of Annihilation, the new feature from Ex-Machina director Alex Garland screened. According to THR, the clip sees Natalie Portman notice a change in her husband Oscar Isaac after he returns from a year-long mission. There's a region in the United States undergoing some kind of plague, and she's determined to figure out how this malady has affected her husband. The answer is probably not great.

Darkest Hour
Gary Oldman's turn as Winston Churchill is getting early awards-season buzz, and he's already getting his red-carpet talking points ready: According to Deadline, Oldman told the crowd he spent over 200 hours in the makeup chair to transform into the former British prime minister in this story of the first weeks of his term.
Pirates of the Caribbean: Dead Men Tell No Tales
The fifth movie in the Pirates series might actually return to some of its Curse of the Black Pearl glory. The movie screened in full two months ahead of its release, and early reviews of the installment seemed satisfied. Slashfilm called it "a pleasant surprise."