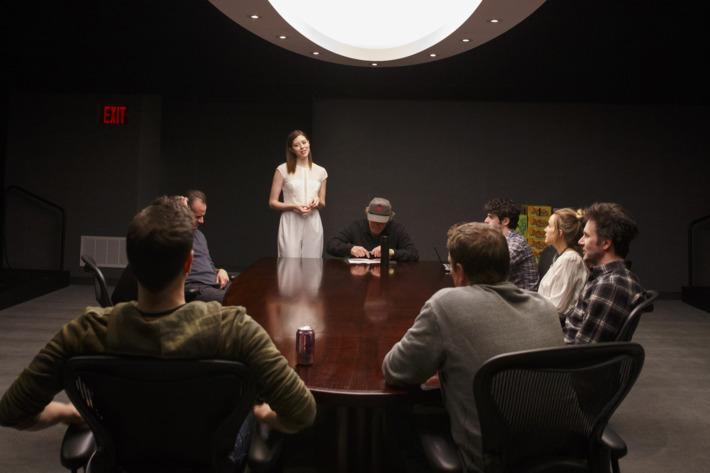 Preproduction publicity for Annie Baker's The Antipodes, which opens tonight at the Signature, revealed only that it is "a play about people telling stories about telling stories." That turns out to be a surprisingly accurate description of its contents and a surprisingly misleading one about its effect. Most of the two-hour running time is indeed taken up with a kind of tail-eating exploration of the idea of narrative; after all, the play is set in the writers room of a high-end cable-television project. The show runner, a faux-earnest gasbag with a couple of hits to his credit, has hired five men and one woman to develop a new series that (he suggests sententiously) can change the world. But first, as part of his traditional prime-the-pump hazing, he forces everyone to tell stories about things like their most embarrassing experience and their biggest regret. The two veterans of this process know they are supposed to deliver well-rounded, meaningful, self-deprecating anecdotes that nevertheless reassert their mastery. Some of the newbies stumble, though. One man's biggest regret was almost — but not quite — endangering some chickens.
As this process proceeds, the parameters of the group's forthcoming script become more evident, at least to the extent that "no dwarves or elves or trolls" will be involved. But monstrosity of one sort or another is very much on the table. The play's title refers to the spot exactly on the other side of the globe from where one stands, a place where (as one of the writers puts it) "there's a monster who looks exactly like you doing exactly what you're doing wearing the exact same clothes and eating the same food and going to the same job and thinking the same thoughts except the monster is doing it all upside down and backwards and in reverse order." The problem at the end of time, he says, is to figure out which is the monster: you or your antipodal doppelganger. Over the course of the play, though, Baker seems to suggest that the other end of the Earth is actually internal, a monstrosity within us each. Failings including infidelity, narcissism, toadyism, and betrayal manifest themselves as horrible succubi, some of which lead in The Antipodes to (literally) disgusting discharge.
It is somewhat of an antipodal tactic to have opened the play in the midst of the final hectic weeks of the Broadway season, when overblown and inauthentic storytelling is sucking all the air out of midtown. If in some ways Baker seems to be commenting on the falseness of these forms, in doing so she does not much spare other kinds of storytellers, including herself. The non-poultry-endangering writer suggests that the retailing of personal stories is always, at best, misleading. "I guess I've always felt like my personal life is the part of my life that I don't want to turn into a story," he tells the table. He's toast.
Baker's reputation has been built on a handful of exquisite yet muscular plays — including Circle Mirror Transformation, The Aliens, and The Flick, which won the Pulitzer — that are not evidently about herself. They instead explore the lives of characters who are mostly marginal in some way, albeit with the accuracy and respect that most writers are more likely to apply to their own experience. Her dialogue is typically deliberately unpolished; as she told me in an interview in 2015, "I think there is a style of theater that is about a kind of heightened verbal facility, and I probably don't fit into that category." The Antipodes definitively moves her into that category, not so much because the dialogue is so smooth — it is still uncannily observed in its feints and dead ends — but because most of the characters are. In fact the play sometimes seems disgusted with their facility, and with its own. Which is not to say it is sour or mean; the production, beautifully directed by Lila Neugebauer, is just too thoughtful to settle for unkindness. So are the uniformly excellent actors: Will Patton as the boss; Josh Charles and Danny Mastrogiorgio as the old hands; Phillip James Brannon, Josh Hamilton, Emily Cass McDonnell, and Danny McCarthy as the newbies; Brian Miskell as their assistant, taking notes; and Nicole Rodenburg as the boss's secretary, who has a wild story of her own.
But I left The Antipodes, as I had not left any previous Baker play, feeling I had spied on a private ritual, not engaged in a public one. (That note-taking assistant definitely performs a private ritual, with a grotesque result.) Some of the digressions and hermetic annotations feel a bit unprocessed, as if a drawerful of miscellaneous research insisted on being emptied. Baker is too thoughtful a playwright, and too thorough a stylist, to make any two hours spent with her characters unedifying. The pinprick insights, particularly into the macho gamesmanship of such rooms, are sharp and often hilarious. Still, I wonder whether The Antipodes will eventually prove to have been a transitional piece, an exorcism of one kind of story-monster to make room for another.
The Antipodes is at the Signature Center through June 4.