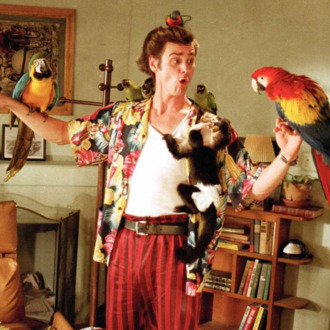 At the beginning of (and during) every month, Hulu adds new movies and TV shows to its library. Below, you'll find our recommendations for March 2017. For more comprehensive coverage of the best movies and TV shows available on Hulu and elsewhere, check out Vulture's What to Stream Now hub, which is updated throughout the month.
If you forgot why Jim Carrey broke out: Ace Ventura: Pet Detective
In Living Color got Jim Carrey a feature lead, but the long-suffering comic evolved into a bankable film star on the back of his eventual serial collaborator Tom Shadyac's loony caper Ace Ventura. Before Adam Sandler, the Farrelly brothers, and other imitators wore out our appetites for post-adolescent raunch, the sight and sound of Carrey literally talking out of his ass, coining future soundboard fodder like, "Holy testicle Tuesday!" and generally gesticulating around Miami like a demented Fred Astaire were signature nonsense. Carrey has careened between slick silliness and prestige drama ever since, but Ace Ventura holds up astonishingly well. Available June 1.
If you have a thing for talking animated cats: Last Action Hero
Yep, Arnold Schwarzenegger's would-be mid-1990s tentpole had one of those kitties, in addition to Ah-nuld in self-parody mode, a murderer's row of international thespians (Ian McKellen, F. Murray Abraham, Charles Dance, Robert Prosky, Tom Noonan, and even Art freakin' Carney!) as broad genre types, and a soundtrack of metal tracks from the likes of Megadeth, Fishbone, and Alice in Chains that goes overlooked as one of the decade's best. It's also a rightly notorious shit show, feebly attempting to blend and satirize action tropes while capitalizing on its star's recent success in hybrid flicks like Kindergarten Cop. More than two decades on, Last Action Hero is a terrific time capsule, as well as a hugely entertaining meta-popcorn flick in spots, and one of the modern era's bigger-budget curiosities, making it well worth a watch. Available June 1.
If you're gearing up for FX's Snowfall: Cocaine Cowboys
Snowfall aims to tell the story of how crack took over America's drug trade in the 1980s, and it will be no surprise if the FX drama overlaps with events detailed in Billy Corben's kinetic, colorful, and inherently sensational documentary Cocaine Cowboys. Local news footage from the swinging '70s and decadent '80s pairs with interviews from players on both sides of the law, laying out how Colombian drug lords and Miami couriers transformed the Sunshine State's southernmost major city into a hopping tourist hotbed built on criminal activity. As ever, eyewitness testimony should be taken with a grain of salt, but Cowboys is an otherwise solid and brisk account of how countless pounds of coke got onto our shores, corrupted officials, sent scores of dealers to jail, and got untold users from Biscayne to the Bronx hooked on drugs. Available June 14.
TELEVISION
Available June 2
Black-ish: Complete Season 3
Available June 6
Rizzoli & Isles: Complete Season 7
Tyrant: Complete Season 3
Available June 16
Cardinal: Complete Season 1
The Strain: Complete Season 3
MOVIES
Available June 1
2 Days in the Valley (1996)
Ace Ventura: Pet Detective (1994)
Ace Ventura: When Nature Calls (1995)
Aeon Flux (2005)
All Over the Guy (2001)
Apocalypse Now (1979)
Apocalypse Now Redux (2001)
Barnyard (2006)
Black Rain (1989)
Blow Out (1981)
Blue Velvet (1986)
Bolero (1984)
Boogeyman (2005)
Boogeyman 2 (2008)
Boogeyman 3 (2009)
Bullwhip (1958)
Burnt Offerings (1976)
Chaos (2008)
Charlotte's Web (1973)
Con Air (1997)
Dances With Wolves (1990)
The Deep End of the Ocean (1999)
De-Lovely (2004)
Desperado (1995)
Desperate Hours (1990)
Double Team (1997)
Dragon Eyes (2012)
Drunken Arts and Crippled Fist (1979)
Drunken Monkey, Floating Snake (1979)
El Gringo (2012)
The Fatal Flying Guillotine (1977)
Fighting of Shaolin Monks (1976)
Fire in the Sky (1993)
Fled (1996)
The Freshman (1990)
Free Willy (1993)
Gangs of New York (2002)
Ghost Rider (2007)
The Glass House (2001)
Hammett (1982)
The Hanoi Hilton (1987)
Harriot the Spy (1996)
Heartbreakers (2001)
Henry & Me (2014)
The Ides of March (2011)
Ingenious (2009)
The Invincible Armour (1977)
In the Line of Fire (1993)
Invincible Obsessed Fighter (1982)
It Could Happen to You (1994)
Joe Dirt (2001)
Kangaroo Jack (2003)
Last Action Hero (1993)
Legally Blonde (2001)
Legally Blonde 2: Red, White and Blonde (2003)
Legends of the Fall (1994)
Little Man Tate (1991)
Lost in America (1985)
Madeline (1998)
The Mechanic (1972)
The Medallion (2003)
Mo' Money (1992)
Money Train (1995)
Moscow on the Hudson (1984)
Mr. Mom (1983)
Muppet Treasure Island (1996)
Muppets from Space (1999)
The Muppets Take Manhattan (1984)
Of Cooks and Kung Fu (1979)
On the Waterfront (1954)
The Out-of-Towners (1999)
Over the Top (1987)
Peggy Sue Got Married (1986)
The Philly Kid (2012)
The Prince of Tides (1991)
The Queen of Versailles (2012)
Random Hearts (1999)
Regarding Henry (1991)
See No Evil, Hear No Evil (1989)
Seven Years in Tibet (1997)
Shivers (1975)
Silverado (1985)
Starman (1984)
Stash House (2012)
Strategic Air Command (1955)
Stray Bullets (2016)
Tracker (2011)
Transit (2012)
Underworld (2003)
Underworld Evolution (2006)
World's Greatest Dad (2009)
World Trade Center (2006)
XXX: State of the Union (2005)
Zoom (2006)
Available June 3
Dumb: The Story of Big Brother Magazine
Available June 4
Arbor Demon (2016)
Urge (2016)
Available June 5
Arbitrage (2012)
A Case of You (2013)
North (1994)
Available June 7
13 Assassins (2010)
Available June 8
What Happened Last Night (2016)
Available June 9
Girl Most Likely (2013)
Free the Nipple (2014)
Available June 11
Traspecos (2016)
Available June 14
Cocaine Cowboys (2006)
Control Room (2004)
Available June 15
Bayou Maharajah (2013)
Family Mission: The TJ Lobraico Story (2016)
The Girls in the Band (2011)
The Hunting of the President (2004)
Outatime (2016)
Available June 16
Asmodexia (2014)
Available June 17
Kundo (2014)
Star Trek: Beyond (2016)
Available June 18
Grand Piano (2013)
Available June 23
Manny (2014)
Song One (2014)
Tarzan (1999)
Available June 26
Journey to the West (2013)
Available June 29
Ong Bak (2003)
Ong Bak 2 (2008)
Ong Bak 3 (2010)
Available June 30
The Pact 2 (2014)