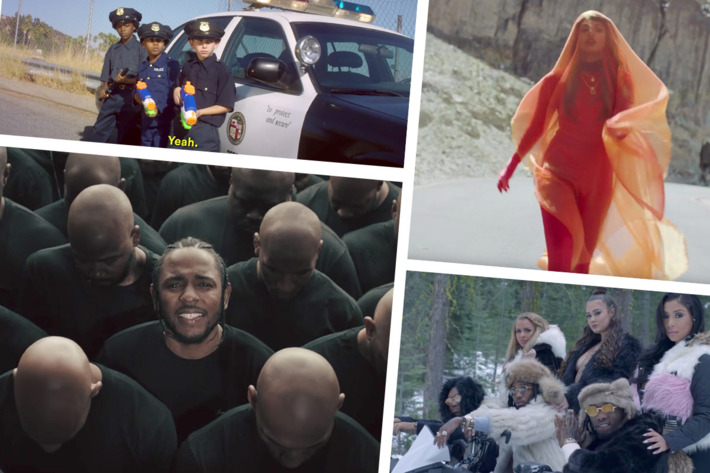 This list has been updated to include September releases.
2017 has been a sparse year for quality music videos. The medium's still operating at top speed but, for the most part, we're left with a glut of uninspired visuals. If the good videos we've already seen this year are any indication, though, it's no longer the fault of the format, but the artists using it — there are, of course, always exceptions, as you'll see below. As it stands, Kendrick Lamar is in serious play for another year potentially topping this list at 2017's end.
Björk, "The Gate"
Part of what made Björk's last album, Vulnicura, so grand in scale — despite dealing with something as shrinking as heartbreak — was its many arresting videos that played with virtual reality, 360-degree views, and animating the singer like we'd never seen before. Those videos were the work of director Andrew Thomas Huang, who called them "visual experiences," and now she's teamed up with him again, for her new video for "The Gate." It's what you've always envisioned the inner workings of Björk's brain to look like — a serene world inhabited by shapeless, futuristic characters who respond to her flute playing, a space suspended in time where Björk is born and reborn again in a cycle of evolution controlled by an orb of light, and a mesmerizing, vibrant plane on which wearing a Gucci dress that took 870 hours to make is considered casual.
Brendan Maclean, "House of Air" (extremely NSFW)
I cannot stress enough that, for now, this video should not be viewed in any public setting unless maybe you're at a sex party or just really don't give a fuck about making other people uncomfortable. Brendan Maclean's "anthropological study of gay semiotics, taxonomies, and sexual behaviors" — a.k.a. his video for "House of Air" — sure doesn't. This video got banned from YouTube and Facebook for its explicit depiction of the history of gay men initiating and having sex, which includes all the things you think it does, plus probably some stuff you've never thought of at all. (Unless you watch a lot of gay porn, in which case, you might recognize some of this video's stars.) It's educational, sometimes voyeuristic, and absolutely engrossing. May they show it in sex-ed classes someday.
Charli XCX, "Boys"
Appreciating Charli XCX's self-directed "Boys" video doesn't require a sexual preference for boys. This is an ode to unapologetic lust, a visual, voyeuristic celebration of crushing hard. "Boys" stars every famous boy of music and internet fame that you've fantasized about doing nasty things to – Riz Ahmed, British YouTubers, Diplo, Joe Jonas, and about 50 others, both straight and queer – and puts a few of them in millennial pink-hued suggestive scenarios. Think of them as Charli's very own video hoes. Finally, a satisfying case for male objectification and flipping the gaze on dudes for a change.
Charlotte Gainsbourg, "Deadly Valentine"
For Charlotte Gainsbourg's bloghaus spin on traditional wedding vows, she enlisted Dev Hynes to play one version of her husband in a love story that begins when they're children and ends when they're an elderly couple. They're both dressed in white the entire time, her in a veil, because wedded bliss is something they've been chasing since the day they met. They literally spend each chapter of their friendship turned romance running to the church. When they finally arrive there in old age — after a detour involving a captivating interpretive dance between Charlotte and Dev in a sculpture garden — they're greeted by memories of their relationship. They get many first dances; their younger selves twirl at the reception alongside them in celebration of having loved each other their whole lives.
Cupcakke, "Biggie Smalls"
Chicago rapper Cupcakke's Tumblr stock increases with every raunchy innuendo-heavy video she uploads, but she's not one-note. The sex might seem gratuitous, but there's an intention to normalize taboos at each video's heart. Seeing Cupcakke simulate fellatio with an ear of corn shouldn't be shocking, and that's her point. She makes a similar point with "Biggie Smalls," in far less NSFW ways. The concept is simple: Encourage body positivity by showing diverse bodies in a positive light, celebrating rolls, stretch marks, and flat stomachs alike by painting them with her words. But the highlight comes in a collage of submissions from everyday women in their underwear (smiling faces included), wearing their own skin with pride.
DJ Khaled ft. Rihanna and Bryson Tiller, "Wild Thoughts"
Behold Rihanna's shoulder shimmy, along with the greatest GIF in creation, and tell me this isn't one of the best videos 2017 has to offer.
Francis and the Lights ft. Chance the Rapper, "May I Have This Dance" and Haim, "Want You Back"
If you'd have told me even a year ago that Francis Farewell Starlite would one day choreograph little routines in his head and have Chance the Rapper and the Haim sisters perform them, I … well, honestly, I would have believed it. He's a well-connected man of many quirks and has no qualms with showing them off. "May I Have This Dance" and "Want You Back" are two jolts of energy needed in these weary times.
Grimes and Janelle Monáe, "Venus Fly"
Tidal threw its coins at Grimes so she could make her wildest artistic vision a reality and the payoff is mighty. Her self-directed "Venus Fly" video looks like a graphic novel come to life about two superheroes who double as queens of some futuristic universe. Don't try to follow the plot (there's some Beauty and the Beast parallel going on, I think?), just marvel at every single slo-mo shot.
Jay-Z, "Moonlight"
What would an all-black remake of a Friends bottle episode, performed and shot verbatim, look like? Jay-Z's mega-meta "Moonlight" video tricks its viewer into think it's asking just that question — an entertaining one on its own, to be sure — but it ends up pondering a more existential quandary: What does it look like when black bodies are used as stage props to serve a vanilla narrative? The story that follows centers on Jerrod Carmichael's dark journey of discovering his worth isn't valued as highly as he'd been made to believe (though the video's director, Master of None co-creator Alan Yang, told us the parallel to Carmichael's real-life fallout with NBC was coincidence), exposing La La Land's new exploitative tricks. He's joined by a star-studded cast of his generation's best new black talent, including Issa Rae, Tiffany Haddish, Lakeith Stanfield, and more — as if this video could be any better.
Kendrick Lamar, "D.N.A."
Don Cheadle had two days to memorize and prep his delivery of Kendrick's lyrics, so he could mime them back to Kendrick's face in an interrogation room. In those two days, Cheadle also invented his own meaning for D.N.A. —"Dead Nigger Association" — which then made it into the dialogue of the bad-cop routine that opens the video. Tie in the Rush Hour 2 inspiration that completely went over Cheadle's head, and you've got a Kendrick Lamar visual classic. Come for all those things, stay for Schoolboy Q's parting gift to the viewers at the end (yet another Beyoncé allusion in Kendrick's recent visual work).
Kendrick Lamar, "Humble"
It's not an exaggeration to consider "Humble" the most visually superior music video since "Formation." Nothing had come even close, or attempted to, really. But it takes an artist with kindred ambition, influence, and assigned cultural duty to pull off such a feat. Without "Formation" (and "99 Problems" before it), "Humble" is probably a treatment few directors would've touched. The legendary Dave Meyers and Kendrick's own "little homies" crew, however, met the challenge. "Humble" presents Kendrick in Young Pope garb, then, for some historical revision, seated at the head of the table of a Last Supper surrounded by the black and brown disciples that da Vinci's re-creation of the moment denied. Every surreal shot is a GIF, boosted by all the fancy technology — GoPros, 360 rigs, camera robots — used to achieve so many of them (this videos owes a lot to Missy Elliott, too). Every striking frame is a portrait of Kendrick at his most masterful yet. Who knew it could get better than "Alright"?
Kendrick Lamar ft. Rihanna, "Loyalty"
So great is the imagination of Kendrick Lamar that he would cast himself as an organized crime boss who's bagged Rihanna. There isn't a man alive who dreams of having a successful chance with her, and yet, here's Kendrick daring Rih to dangle off a building using only his one arm (!) to save her. Just look how he embraces her as they sink into asphalt like they're Romeo and Juliet. This is a love story so loyal to being unrealistic it survives a literal car crash. Shoot your shot, Kendrick. No judgement here.
M.I.A, "P.O.W.A."
When M.I.A. spends months, or even a year, working on a music video, she's not being pretentious. She treats each one like a cinematic experience, which explains why "P.O.W.A." has the scale and cinematography of a feature film. It's not busy — just M.I.A. draped in a neon sari, lying in a flower bed surrounded by picturesque mountains, and a synchronized chain of men in front of a wall achieving moves unlike anything you've ever seen, providing some of the year's most visually arresting imagery.
Migos, "T-Shirt"
What if three black men from Atlanta adorned head to toe in furs had starred in The Revenant instead of Leo? Thus is the premise of one of many great Migos videos this year, but undoubtedly the greatest: "T-Shirt." Historical accuracy be damned, this video has snowmobiles, ski lodges, and Instagram models because the Migos have clearly always been from the future.
Young Thug, "Wyclef Jean"
The best music video Young Thug has ever done barely features the rapper and looks like it was sponsored by music-annotations mecca Genius. That's because, as the video's director Ryan Staake explains in sarcastic detailed captions throughout, Thugger bailed on most of the filming. Staake's plan-B concept: a fantastically funny behind-the-scenes of a shoot gone awry that makes a strong case for a revival of MTV's Making the Video.
Honorable mentions: Perfume Genius, "Die 4 U; Buddy, "World of Wonders; PWR BTTM, "Answer My Text"; Blood Orange, "With You / Best to You / Better Numb"; Gorillaz, "Saturnz Barz"; Aminé, "Redmercedes"; Bruno Mars, "That's What I Like"; Dirty Projectors, "Little Bubble."