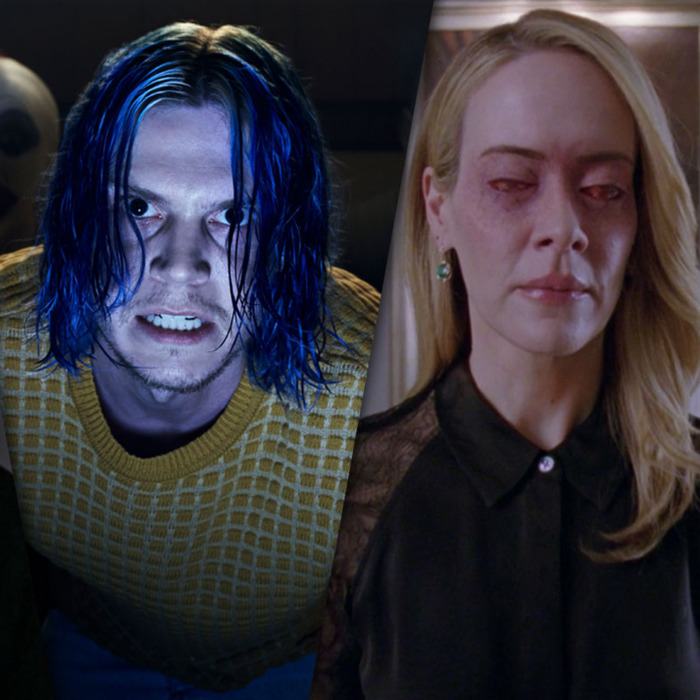 Ryan Murphy and Brad Falchuk changed the television industry when they decided that American Horror Story would be an anthology, inventing a new set of frights each year. Even though every season of AHS is related, we mostly get a sense of continuity from the rotating ensemble that Murphy and Falchuk use to play different characters in each season.
So, who among this rogue's gallery of AHS actors is the best? To qualify, an actor had to be in at least three of the show's seven season. (Cameos count and so do actors playing the same character across seasons, like Gabourey Sidibe's Queenie, who appeared in Coven and Hotel.) Here are the final results. And remember, there can only be one Supreme.
16. Cheyenne Jackson (Hotel, Roanoke, Cult)
For a show with tons of murder, there are a whole lot of stiffs, including Cheyenne Jackson. His roles in his first two seasons were quite small, but maybe Cult's dastardly psychiatrist Dr. Rudy Vincent will be his breakout role.
15. John Carroll Lynch (Freak Show, Hotel, Cult)
Twisty the Clown is great and all, but not really a stretch for a veteran character actor like Lynch. Neither was clown-loving John Wayne Gacy, who he played in Hotel. Let's stop clowning around and give the guy something with meat on its bones.
14. Mare Winningham (Coven, Freak Show, Hotel, Cult)
Other than her always-washing ghost Hazel from Hotel, it's hard to remember the bit parts that Winningham has inhabited. The St. Elmo's Fire star deserves a whole lot better.
13. Gabourey Sidibe (Coven, Freak Show, Hotel)
Her defiant witch Queenie was one of the highlights of Coven and a pleasant surprise when she popped up again in Hotel. But now that she's too busy with Empire, we've been robbed of her for several seasons.
12. Wes Bentley (Freak Show, Hotel, Roanoke)
He breezed through two of his three seasons, but did an acquittably good job as a detective with a taste for evil in Hotel. What do we have to do to get a season where he and Dylan McDermott play homicidal brothers?
11. Taissa Farmiga (Murder House, Coven, Roanoke)
With meaty leading roles in two of the first three installments, Farmiga should have been one of the cornerstones of the AHS franchise. However, her dour Violet and similarly dour Zoe show a lack of range that is far more troubling than any of the scary monsters in the basement.
10. Emma Roberts (Coven, Freak Show, Cult)
There is only one reason why Roberts is this high on the list: Madison Montgomery. Her bitchy teen star turned killer witch in Coven was the barb-tossing scene-stealer of the season. It was such a good character, Murphy essentially remade it for Scream Queens. However, when she isn't slashing people with her tongue, Roberts can be a bit bland.
9. Finn Wittrock (Freak Show, Hotel, Roanoke)
The only redeeming thing about the abysmal Freak Show was Wittrock's breakout performance as Dandy Mott, an over-the-top spoiled sociopath who also happened to look pretty excellent wearing just a pair of tighty-whities. He was similarly handsome as a mostly naked model in Hotel, but totally disguised his moneymaker in Roanoke, playing one of the cannibalistic country bumpkins. It's enough to make him one of the only actors in the ensemble brave enough to not rest on pretty.
8. Lily Rabe (Murder House, Asylum, Coven, Freak Show, Hotel, Roanoke)
Just like your introverted cousin Sally, Rabe is always around even though you often forget about her. Maybe that's because her roles in Murder House, Freak Show, and Hotel (where she played real-life serial killer Aileen Wuornos) were so small you could miss them if you got up to go get a snack. But the demonically possessed Sister Mary Eunice in Asylum and the Stevie Nicks–inspired Misty Day in Coven will always be fan favorites.
7. Denis O'Hare (Murder House, Coven, Freak Show, Hotel, Roanoke)
Elizabeth Taylor, the trans bartender in Hotel, is one of the all-time best creations on the series. As the head of a family who runs off so she can be her true self, O'Hare is stunning in the role. The openly gay actor is similarly great butching it up as a sinister burn victim in Murder House, and as a completely mute doll-collector in Coven. He never has the flashiest roles (except for Liz), but he always knocks them out of the park.
6. Angela Bassett (Coven, Freak Show, Hotel, Roanoke)
She was absolutely underutilized in Freak Show and Hotel, but when Murphy gives Bassett the material, she is an absolute master. Just look at the vengeful undying Marie Laveau in Coven or her double portrayal of Lee Harris/Monet Tumusiime in Roanoke.
5. Frances Conroy (Murder House, Asylum, Coven, Freak Show, Roanoke, Cult)
We still don't know who or what she'll be playing in Cult, but that inevitable appearance means Conroy will be in every AHS season but Hotel. Sometimes the roles are smaller than others, but her stoic iciness is always perfect, especially as incestuous socialite Gloria in Freak Show or her greatest creation, the doomed fashion witch Myrtle Snow. Balenciaga forever!
4. Kathy Bates (Coven, Freak Show, Hotel, Roanoke)
Although she doesn't have as many installments under her belt, no one is as much of a shape-shifter as Bates. Whether it's Ethel, her Baltimore-accented bearded woman from Freak Show or the dowdy receptionist Iris in Hotel, she gives a totally different look and a complete character study each time she's on the show. She even managed to steal scenes as a severed head in Coven. That's dedication.
3. Evan Peters (Murder House, Asylum, Coven, Freak Show, Hotel, Roanoke, Cult)
Like horror movies in general, AHS has always been better known for its female characters than the men they're falling in love with, fighting off, or bringing back to life as unspeaking Frankenstein monsters. Peters is the only person other than Sarah Paulson to be in each season and he's made his career playing a crazy cast of characters, from the brooding high-school shooter of Murder House to the daffy billionaire of Hotel. Peters is the ultimate utility player, and the show would be impossible without his constant metamorphoses.
2. Jessica Lange (Murder House, Asylum, Coven, Freak Show)
From the very first episode of AHS, Jessica Lange was the reason to watch. She mastered the sort of campy menace that has become the program's stock-in-trade in a way that no one else could. Her best performance is Sister Jude, the strict nun who becomes a patient in Asylum, but it was the meddling neighbor Constance in Murder House that will always be her most delicious. While her scenery-chewing was perfect as the outgoing Supreme in Coven, it was a little too extreme as Elsa Mars, the head of the titular Freak Show in the next season. It's a shame that she walked away from franchise. We all pray that one day she'll be lured back, because it's just not the same without her.
1. Sarah Paulson (Murder House, Asylum, Coven, Freak Show, Hotel, Roanoke, Cult)
It's impossible to imagine AHS without Sarah Paulson. Though her role as psychic Billie Dean Howard was pretty small in Murder House, she absolutely slayed as journalist Lana Winters in Asylum. She has been close to the star of the show every season since, and one of only two actors to be in each installment. Whether she's playing conjoined twins (Freak Show), a witch with severe mommy issues (Coven), or — scariest of all — a Jill Stein voter (Cult), Paulson is a bright spot in even the most dreadful season. She's twice played different roles in the same season, too, reprising Howard in Hotel and Winters in Roanoke. Pretty soon, they'll probably make a season where she just plays every single character. It will be the best season yet.