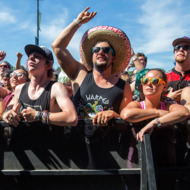 Thnks fr th Mmrs: The Vans Warped Tour has officially kicked the bucket. Founder Kevin Lyman has announced to Billboard that his seminal pop-rock traveling festival, which birthed a generation of disaffected tweens with unfortunate haircuts, will make its final run in 2018 after 24 years on the scene. "Traveling around the country with a tour this size in the landscape that we're in is … to be honest, I'm just tired," he says. "Can relate," said a sea of 20-somethings who thought Warped Tour had already died with their youth. Lyman hopes to retire the festival with a lineup banking on nostalgia: "You're gonna see a big mix of bands I felt really embraced the Warped Tour lifestyle. I don't want to say a 'mature' lineup, but bands that I think could use one more big push of Warped Tour to help further their careers." In theory, that could mean either Katy Perry (it's where she got her start!) or Skrillex (him too!) moshing like it's 2004. In reality, it'll be all the bands that have aged enough to be considered a throwback. (Think: Fall Out Boy, Every Time I Die, Less Than Jake, the Maine, Mayday Parade, and even further back to NOFX, Pennywise, and Bad Religion.)
Though a formative stepping stone for many bands and, eventually, rappers (you can blame Warped Tour for Tyga), the festival was not without controversy. In 2015, several bands threatened to protest the event following allegations that an artist on the tour, Front Porch Step, had preyed on underage girls. Lyman came under fire for permitting him to play an unpaid show before removing Front Porch Step from the tour altogether. That same year, a member of the band Slaves, Jonny Craig, was then accused of sexually harassing a female merch attendant. Lyman initially threatened to dismiss Slaves from the tour, but then allowed Craig a second chance if he adhered to a sober clause in the band's booking contract. Ultimately, other bands on Warped voted Craig off the tour. Reflecting on it now, Lyman claims the tour educated artists accused of "disrespecting women" and that most of the alleged behavior did not occur on the tour.
Lyman says his reason for ending the tour is a dip in ticket sales, younger kids no longer turning out the way they used to, and a lack of consistency from newer bands. "I think the community is, for many reasons, not as unified as it used to be … And to be honest, it gets a little frustrating now, because we invest in bands, and all of a sudden they'll shift their focus." He plans to officially retire the Warped Tour name in 2019. Plan your "Helena"-themed funerals accordingly.