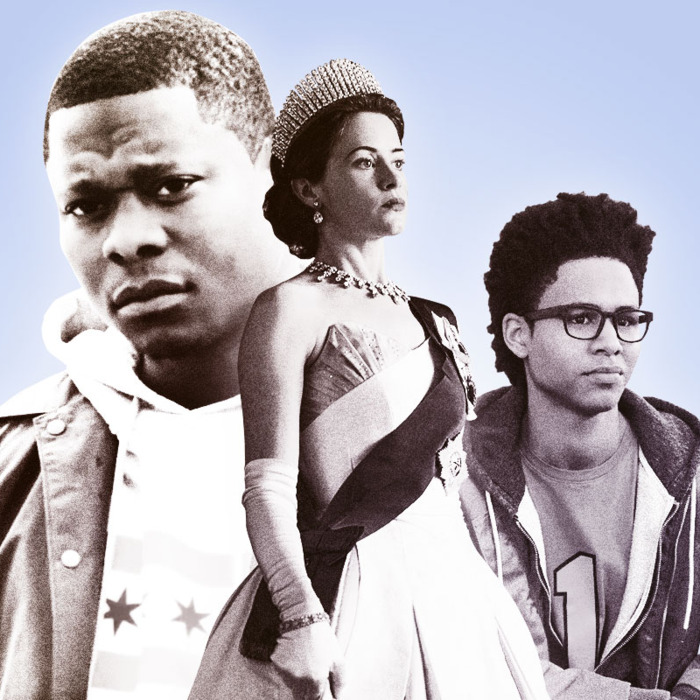 While the idea of "winter television" might've elicited a few eye rolls back in the day — especially compared to the more popular fall and spring seasons — the current lineup of TV premieres for the chillier months are more competitive than ever. Below, browse some of the standout premieres on network and cable TV that'll make their way to small screens over the next few months, as well as a frequently updated schedule for when each show will premiere. 'Tis the season!
Marvel's Runaways, November 21, Hulu
If you ever wanted to know what the creators of Gossip Girl would do with a Marvel series, it's your lucky day. Marvel's Runaways follows a ragtag group of six high-schoolers who accidentally discover that their parents are criminal masterminds known collectively as "the Pride," so they decide to unite their angsty teen powers and take them down to save the world. Let's just hope their SAT prep doesn't get in the way.
The Marvelous Mrs. Maisel, November 29, Amazon
To fill the Gilmore Girls Thanksgiving void from last year, Amy Sherman-Palladino concocted yet another fast-paced comedy for our viewing enjoyment. The Marvelous Mrs. Maisel tells the story of a young, Jewish, 1950s housewife (Rachel Brosnahan) who, after her husband leaves her for another woman, inadvertently discovers that she has a real knack for stand-up when she drunkenly commandeers the stage at a Greenwich Village nightclub. She decides to pursue her gift with the help of an aspiring manager (Alex Borstein), much to the chagrin of her family and friends.
The Crown, December 8, Netflix
Savor your last bit of Claire Foy's Elizabeth while you can. Before the cast departs to make way for a new set of actors in the upcoming seasons, The Crown's sophomore outing promises just as many icy stares and beautifully ornate costumes as you can imagine — as well as a peek behind palace doors as Elizabeth reacts to the Suez Crisis and the Profumo Affair. Oh, and Princess Margaret's new debonair beau, of course.
Grown-ish, January 3, Freeform
Black-ish's Yara Shahidi gets her very own spinoff, Grown-ish, which finds her freshman college student Zoey Johnson navigating the ins and outs of living away from home — crazy roommate, instant ramen, and all — for the first time. But despite a burgeoning checking account thanks to her parents, Zoey isn't going to have an easy time when she gets to campus. Ah, the naivety of the youths these days.
The Chi, January 7, Showtime
Master of None's breakout Emmy winner Lena Waithe serves as the creator and executive producer of The Chi, a coming-of-age drama set in Waithe's hometown of Chicago. Given the talent involved — from Waithe and director Rick Famuyiwa to actors like Straight Outta Compton's Jason Mitchell and Moonlight star Alex Hibbert — the show's focus on day-to-day life and struggle in Chicago's South Side could wind up being something special..
The Assassination of Gianni Versace: American Crime Story, January 17, FX
The next outing of Ryan Murphy's American Crime Story anthology series will explore the tragic murder of fashion designer Gianni Versace, who was killed in front of his Miami mansion in 1997. Come for Penelope Cruz's bleach-blonde performance of Gianni's grief-stricken sister, Donatella Versace, and stay for the multiple scenes of Ricky Martin in a colorful Speedo as Antonio D'Amico.
The Alienist, January 22, TNT
Cary Fukunaga gives the small-screen treatment to this popular Caleb Carr novel, and no, it doesn't actually revolve around aliens. Set in the Gilded Age of 1896, The Alienist follows a pre-presidential Theodore Roosevelt — when he was a New York City police commissioner — as he enlists the help of a newspaper illustrator (Luke Evans), criminal psychologist (Daniel Brühl), and secretary (Dakota Fanning) to hunt down the culprit who is murdering young boys. The closer they inch to the truth, the more trouble they find themselves in.
Sunday, November 19
10 p.m. Search Party, TBS
Tuesday, November 21
12 a.m. Marvel's Runaways, Hulu
Wednesday, November 22
12 a.m. Godless, Netflix
Thursday, November 23
12 a.m. She's Gotta Have It, Netflix
8 p.m. Anne of Green Gables: The Good Stars, PBS
Wednesday, November 29
12 a.m. The Marvelous Mrs. Maisel, Amazon
9 p.m. Vikings, History
Thursday, November 30
10:30 p.m. It's Suppertime!, Viceland
Friday, December 1
12 a.m. Easy, Netflix
12 a.m. Dark, Netflix
8 p.m. Marvel's Agents of S.H.I.E.L.D., ABC
Monday, December 4
9 p.m. Vanderpump Rules, Bravo
10 p.m. Cash Cab, Discovery
Wednesday, December 6
12 a.m. Shut Eye, Hulu
10 p.m. Knightfall, History
10 p.m. Happy!, Syfy
Thursday, December 7
8 p.m. Psych: The Movie, USA
9 p.m. The Great American Baking Show, ABC
10 p.m. Beerland, Viceland
Friday, December 8
12 a.m. The Crown, Netflix
12 a.m. The Grand Tour, Amazon
Wednesday, December 13
8 p.m. The Librarians, TNT
Friday, December 15
12 a.m. Jean-Claude Van Johnson, Amazon
12 a.m. Wormwood, Netflix
12 a.m. The Ranch, Netflix
Monday, December 18
10 p.m. Gunpowder, HBO
Monday, December 25
9 p.m. Call the Midwife, PBS
Monday, January 1
12 a.m. The Frozen Dead, Netflix
12 a.m. Lovesick, Netflix
8 p.m. The Bachelor, ABC
9 p.m. Valor, The CW
Tuesday, January 2
9 p.m. LA to Vegas, FOX
10 p.m. Chicago Med, NBC
Wednesday, January 3
8 p.m. Grown-ish, Freeform
8 p.m. The Blacklist, NBC
8 p.m. The X-Files, FOX
9 p.m. 9-1-1, FOX
10 p.m. Chicago PD, NBC
Thursday, January 4
8 p.m. Superstore, NBC
8:30 p.m. The Good Place, NBC
9 p.m. Will & Grace, NBC
9:30 p.m. Great News, NBC
10 p.m. Chicago Fire, NBC
Friday, January 5
8 p.m. Crazy Ex-Girlfriend, The CW
Sunday, January 7
8 p.m. The 75th Annual Golden Globe Awards, NBC
10 p.m. The Chi, Showtime
Star Trek: Discovery, CBS All Access
Tuesday, January 9
8 p.m. The Fosters, Freeform
9 p.m. This Is Us, NBC
Wednesday, January 10
8:30 p.m. Alone Together, Freeform
9 p.m. The Magicians, Syfy
10 p.m. If Loving You Is Wrong, OWN
10 p.m. Slutever, Viceland
Friday, January 12
8 p.m. Blindspot, NBC
9 p.m. Taken, NBC
12 a.m. Philip K Dick's Electric Dreams, Amazon
Sunday, January 14
9 p.m. Victoria, PBS
10 p.m. Divorce, HBO
10:30 p.m. Crashing, HBO
Monday, January 15
8 p.m. Supergirl, The CW
Tuesday, January 16
8 p.m. The Flash, The CW
9 p.m. Black Lightning, The CW
10 p.m. The Paynes, OWN
Wednesday, January 17
8 p.m. Riverdale, The CW
9 p.m. Dynasty, The CW
10 p.m. Corporate, Comedy Central
10 p.m. The Assassination of Gianni Versace: American Crime Story, FX
The Path, Hulu
Thursday, January 18
8 p.m. Beyond, Freeform
8 p.m. Supernatural, The CW
8 p.m. Grey's Anatomy, ABC
9 p.m. Scandal, ABC
9 p.m. Arrow, The CW
10 p.m. How to Get Away With Murder, ABC
10 p.m. Portlandia, IFC
Friday, January 19
11 p.m. High Maintenance, HBO
Grace and Frankie, Netflix
Sunday, January 21
8 p.m. Counterpart, Starz
Monday, January 22
9 p.m. The Alienist, TNT
9 p.m. Mosaic, HBO
Tuesday, January 23
10 p.m. Baskets, FX
10 p.m. Bellevue, WGN America
10 p.m. Drunk History, Comedy Central
10 p.m. The Quad, BET
10 p.m. Hate Thy Neighbor, Viceland
10:30 p.m. The Detour, TBS
Wednesday, January 24
8 p.m. Schitt's Creek, Pop
8:30 p.m. Let's Get Physical, Pop
10:00 p.m. Waco, Paramount Network
10:30 p.m. Hollywood Love Story, Viceland
Friday, January 26
9 p.m. Jane the Virgin, The CW
12 a.m. One Day at a Time, Netflix
Sunday, January 28
7:30 p.m. The 60th Annual Grammy Awards, CBS
Thursday, February 1
9:30 p.m. A.P. Bio, NBC
Friday, February 2
11:30 p.m. 2 Dope Queens, HBO
Altered Carbon, Netflix
Sunday, February 3
10 p.m. The Artful Detective, Ovation
Friday, February 9
TBD, XXIII Olympic Winter Games Opening Ceremony, NBC
Sunday, February 11
8 p.m. Our Cartoon President, Showtime
9 p.m. Homeland, Showtime
9 p.m. Here and Now, HBO
Monday, February 12
8 p.m. Legends of Tomorrow, The CW
Wednesday, February 14
This Close, Sundance Now
Friday, February 16
12 a.m. Mozart in the Jungle, Amazon
Monday, February 19
10 p.m. X Company, Ovation
Friday, February 23
12 a.m. The Tick, Amazon
12 a.m. Seven Seconds, Netflix
Sunday, February 25
9 p.m. Ash vs. Evil Dead, Starz
Monday, February 26
9:30 p.m. Living Biblically, CBS
10 p.m. Shoot the Messenger, WGN
10 p.m. UnREAL, Lifetime
10 p.m. Good Girls, NBC
Wednesday, February 28
The Looming Tower, Hulu
10 p.m. Designated Survivor, ABC
Friday, March 2
8 p.m. Once Upon a Time, ABC
12 a.m. B: The Beginning, Netflix
Sunday, March 4
The Good Fight, CBS All Access
Wednesday, March 7
Hard Sun, Hulu
10 p.m. Hap and Leonard: Two Bear Mambo, SundanceTV
Thursday, March 8
The Oath, Crackle
12 a.m. Jessica Jones, Netflix
Friday, March 9
12 a.m. Love, Netflix
Sunday, March 11
8 p.m. Instinct, CBS
Tuesday, March 13
10 p.m. Rise, NBC
Wednesday, March 21
Krypton, Syfy
Monday, March 26
9 p.m. The Terror, AMC
Tuesday, March 27
8 p.m. Roseanne, ABC
Thursday, March 29
8 p.m. Siren, Freeform