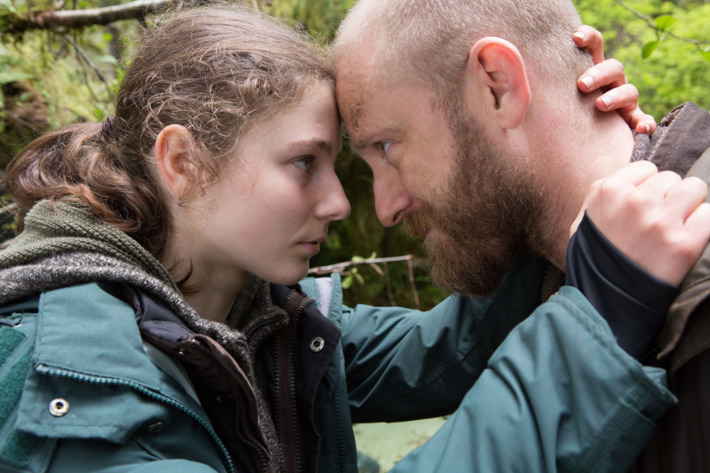 Leave No Trace, Debra Granik's first fictional feature since Winter's Bone, is a grim, contemplative, finally agonizing portrait of a traumatized vet, Will (Ben Foster), who can't endure society, and his 13-year-old daughter, Thom (Thomasin Harcourt McKenzie), who lives with him in the eight-square-mile Forest Park in the mountains west of Portland, Oregon. Granik doesn't give the audience any bearings for a while, so we don't know what to make of what they're doing — but it's plain enough they have an easy, tender relationship, and that they're careful to hide all evidence of their existence from rangers or police. Hence the movie's title.
Leave No Trace is based on a novel by Peter Rock (titled My Abandonment) inspired by a story he read in the Portland Herald. Living on public land was illegal, of course, as was the girl's nonattendance at school. In the novel and film, Thom is entirely accepting of this way of life — at first. She loves her dad (her mom died when she was very young) and has never known anything else. But then someone catches sight of her in the woods. Circumstances change, and so, after a while, does Thom.
Granik (who adapted the novel with Anne Rosellini) is plainly fascinated by people who live far, far off the grid and their makeshift designs for living. The despair she documents is palpable, but so is her faith in human decency. (Bleak as the movie of Winter's Bone seemed, Daniel Woodrell's novel was bleaker.) Most of all she depicts (without editorializing) the way that girls and women carry the burden of fixing things more often than they get credit for. Will — whose wartime experiences are left to our imagination in the film — can't mend what's broken inside him. But even after a childhood in the woods, Thom senses another path that's truer to her soul.
As Winter's Bone gave the world Jennifer Lawrence (an extraordinary actress, no matter what you think of her public persona and subsequent movie choices), Leave No Trace is a joyous introduction to Thomasine Harcourt McKenzie. Her Thom has different rhythms than other people — more deliberate — and a grown-up face with watchful gray eyes that you rarely catch blinking. She speaks carefully, as if words are too dear to waste on inessentials.
The heart of Leave No Trace is the rapport between the father and daughter, and McKenzie and Foster are keyed to each other's movements, perhaps even each other's thoughts. They can be silent in each other's company and look as if they're communicating. Will is in charge in the woods, but the more Thom sees of the other parts of the world, the more her perspective on her father shifts. On one of their occasional trips to Portland for supplies and medicine, Thom drifts over to a table in the VA hospital where a man offers vets and their families some unusual items, among them a "gun block" for sticking in a barrel if "someone wants to do something to himself or others." She sees that there are others worse off than her father — that merely by staying alive and caring so insistently for her is a kind of heroism. But he has put her at a terrible risk. And in any case, his psyche should not be so yoked to hers.
Granik's pace is deliberate — characters talk a lot more in the novel — but Michael McDonough's camera makes the settings characters, too, and Leave No Trace becomes something of an odyssey. In one section, Will and Thom are installed in a small house on a Christmas-tree farm, and it's hard to imagine anything less respectful of the natural world than all the buzzsaws and trucks at the ready to supply people all over the country with a bit of the forest for a month. But there are less abrasive places, too. Although Thom has acclimated herself to the rhythms of the forest, she discovers there are people in the so-called real world who bond deeply with animals — rabbits, dogs, and, in some especially memorable sequences, bees. You can see the tension go out of her body when she meets those people and the animals they love. The city itself might be loud and inhospitable, but there is a vast middle ground. Will and Thom finally arrive at a place many of us might consider godforsaken: a community of outsiders living in shacks and trailers in the woods of Washington State that has its own nurturing ecosystem. (Dale Dickey, unforgettable as the hill country matriarch in Winter's Bone, is a considerably softer character here.)
The audience at the Sundance Film Festival premiere was still collectively shaking from the movie's momentous final scene when Granik and her cast and crew took the stage. Young Thomasin Harcourt McKenzie surprised the audience (and me) by speaking in a nearly impenetrable Kiwi accent. So much love emanated from that stage that we were all reminded that movies like Leave No Trace aren't accidents. They're the manifestation of a collective spirit. They can restore your faith in … faith.