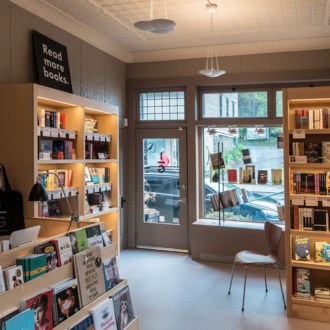 The view inside One Grand Books.
Photo: Jon Buono and One Grand Books
As if there weren't enough reasons to escape into the countryside this summer, a new literary festival will provide the chance to do so while listening to celebrities read books. The first inaugural Deep Water Literary Festival, created by One Grand Books founder Aaron Hicklin, is coming to Narrowsburg, New York, from June 15 to 17 this summer, and for its centerpiece event, it'll feature a marathon reading from Emily Wilson's new translation of The Odyssey with a cast of readers that includes Mark Ruffalo, Becky Ann Baker, Dylan Baker, Marlon James, and even Tilda Swinton, who prerecorded book ten of the epic, which features Circe. The marathon will take place over the course 23 half-hour readings, scattered across the town, giving people the chance to enjoy the scenery and the text. The festival will also include discussions with Masha Gessen, Nina Burleigh, and A.M. Homes, the performance artist Penny Arcade, and more. More information is available here.