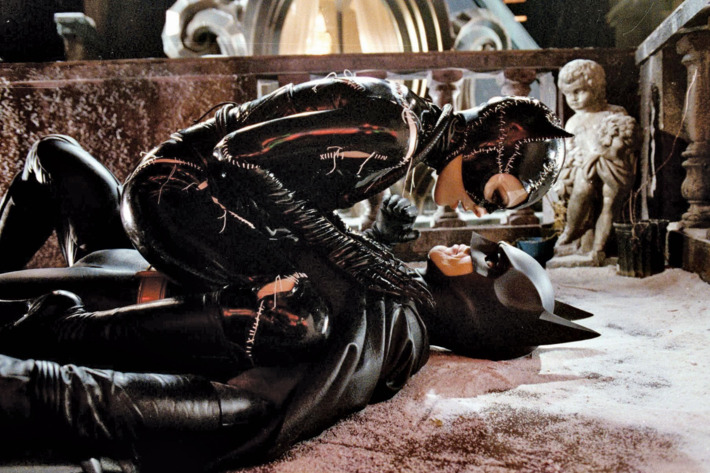 Batman's caped crusading and unresolved orphan issues don't allow him to open his heart often. But he's come close to finding love with one individual: Catwoman. In a stunning turn of events, Batman recently asked Catwoman to marry him, and the two planned an ill-fated wedding for this month in the pages of his comic. Here's a brief history of the couple's 78-year love story.
1939
Detective Comics, No. 27
Batman debuts. His personal life is a question mark.
1940
Batman, No. 1
Catwoman — then known as the Cat — debuts. The sexual tension is immediately palpable: At one point, Batman threatens, "Quiet or papa spank!"
1943
Batman, No. 15
Batman is smitten with Catwoman. "What's got into you?" Robin asks his mentor. "What about … us?" Batman's reply: "Patience, m'lad, you're too young to understand these things!"
1966
Batman TV series, "The Bat's Kow Tow"
Catwoman nearly shoots Batman, but: "I can't kill the only man that I've …" They almost kiss, but Robin interrupts.
1977
DC Super-Stars, No. 17
We get a glimpse of an alternate reality, Earth-Two, where Catwoman gave up her life of crime and married Batman in 1955, eventually giving birth to a daughter, Helena.
1983
Batman, No. 355
Catwoman, jealous of Bruce Wayne's romance with Vicki Vale, almost slashes his throat. "So much hate. Was it real?" she asks. "As real as the love we know," he says.
1986
Batman, No. 392
Catwoman proposes that she and Batman go on a date. "Well? Or do I have to purr in your ear?" she says. He flirts back: "No … but maybe later you could scratch my back."
1992
Batman Returns
In the movie's erotic climax, Catwoman (Michelle Pfeiffer) tongue-kisses the Dark Knight (Michael Keaton), who struggles to suppress his Bat-libido.
1994
Detective Comics, Annual No. 7
Another alternate reality: Batman is a pirate and Catwoman a rival buccaneer. The two become king and queen of the high seas.
1999
Catwoman: Guardian of Gotham
Yet another alternate reality: Catwoman is a superhero and Batman a criminal. When she learns his alter ego is her husband, Bruce Wayne, she turns on him.
2002
Batman, Nos. 608–619
Batman falls for Catwoman and reveals his secret identity to her. He later suspects his brain was tampered with and ends the relationship.
2009
Batman, No. 686
During a period when Batman is presumed dead, Catwoman delivers a eulogy at his funeral and recalls how the two of them fell in love.
2010
Batman: The Brave and the Bold, "The Knights of Tomorrow!" (cartoon)
Batman and Catwoman marry and have a son, Damian. Later, it's revealed the whole story is a work of fan-fiction by Alfred.
2012
The Dark Knight Rises
Anne Hathaway stars as Selina Kyle, a poor thief who resents the Bruce Waynes (Christian Bale) of the world. But they sort out their differences and live happily ever after.
2013
Injustice: Gods Among Us, No. 17
In another alternate reality — in this one, Superman has gone nuts, turned evil, and taken over the world — Catwoman comforts Batman: "You can fall apart. I'll hold you together."
2016
Batman: The Telltale Series
Catwoman/Selina Kyle is a major character in this point-and-click video game, which offers players such romantic choices as "Sleep with Selina" or "Reject her advances."
2017
Batman, No. 14
Batman and Catwoman spend a starry night leaping across rooftops and, eventually, banging on top of one. This is the beginning of their present romance.
2017
Batman, No. 24
In the pouring rain, Batman drops to one knee and says, "Marry me." The issue's cliffhanger: Will Catwoman say yes? (She does.)
2018
Batman, No. 44
Catwoman steals a $28,000 wedding dress from a store in the middle of the night and opts not to tell her fiancé about the five-claw discount.
2018
Batman: Prelude to the Wedding: Nightwing vs. Hush, No. 1
Batman frets over who to pick to be his best man, eventually settling on Superman.
2018
Batman, No. 50
In a shocking twist, church bells don't ring: Catwoman blows off the wedding because she realizes wedded bliss would make Bruce Wayne stop being Batman. So close, yet so far.
*This article appears in the July 9, 2018, issue of New York Magazine. Subscribe Now!