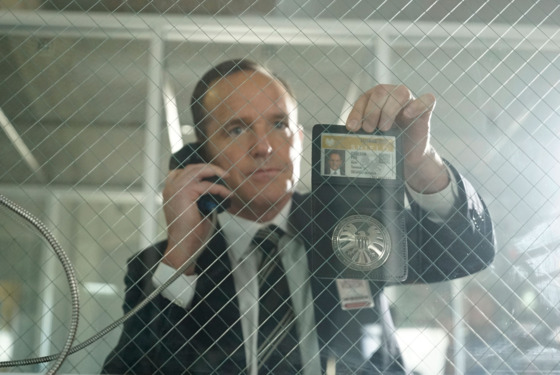 Season 04
Episode 04
Let Me Stand Next to Your Fire
"Did two fire dudes just drop into a warehouse full of fireworks?"
"Uprising" deftly juggles its many overlapping story lines.
The new S.H.I.E.L.D. director is no Phil Coulson.
Don't be fooled: This is the same old S.H.I.E.L.D. with a coat of black paint.
Schedule

Tuesdays at 9 p.m.
ABC

Cast

Clark Gregg:
'Phil Coulson'
Ming-Na Wen:
'Agent Melinda May'
Brett Dalton:
'Grant Ward'
Chloe Bennet:
'Skye'
Elizabeth Henstridge:
'Agent Jemma Simmons'
Iain de Caestecker:
'Agent Leo Fitz'
Nick Blood:
'Lance Hunter'

Debut

September 24, 2013
The Latest On
Agents of S.H.I.E.L.D.
4/21/15 at 12:33 PM
It will star Adrianne Palicki and Nick Blood.
Sunday
Tuesday
Wednesday
Thursday
Friday
Saturday
On Hiatus:

The Affair, The Americans,American Horror Story, The Americans, Archer, Ash Vs. Evil Dead, The Bachelor, Ballers, Bloodline, Broad City, Daredevil, Doctor Who, Fargo, The Fosters, Game of Thrones, Girls, Halt and Catch Fire, Jessica Jones, Homeland, The Knick, The Leftovers, Louie, The Man in the High Castle, Master of None, Masters of Sex, Mr. Robot, The Night Of, Orphan Black, Outlander, The Real Housewives of New York, Roadies, Scream Queens, Silicon Valley, Togetherness, Transparent, True Detective, UnREAL, Veep
The Archives:

24: Live Another Day, 30 Rock, America's Next Top Model, Arrested Development, Big Love, The Blacklist, Bored to Death, BrainDead, Breaking Bad, The Bridge, Celebrity Apprentice, Cougar Town, Curb Your Enthusiasm, Dexter, Downton Abbey, Eastbound and Down, Enlightened, The Following, Friday Night Lights, Glee, Gossip Girl, Hannibal, Hell on Wheels, How I Met Your Mother, Jersey Shore, Justified, The Killing, The Legend of Korra, Lost, Luck, Mad Men, Maron, Modern Family, The Office, Parenthood, Parks and Recreation, Power, Project Runway, Ray Donovan, The Real Housewives of New Jersey, Real Husbands of Hollywood, Revenge, Revolution, Rubicon, The Sing-Off, Smash, Supernatural, Terra Nova, Top Chef, Top Chef Masters, True Blood, Under the Dome, Up All Night, The Voice, Work of Art, The X Factor