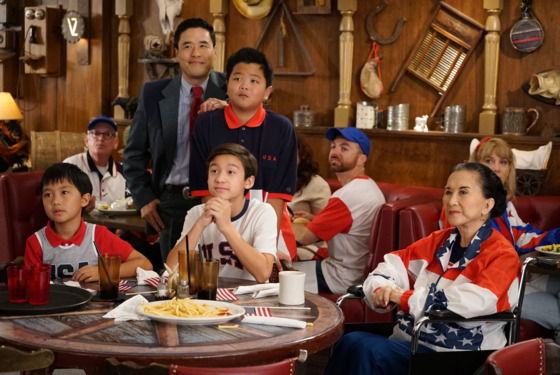 Season 03
Episode 02
Breaking Chains
Change is afoot in the Huang household.
It finally happened: Fresh Off the Boat went to Taiwan!
Schedule

Tuesdays, 8:30 p.m.
ABC

Cast

Randall Park:
'Louis Huang'
Constance Wu:
'Jessica Huang'
Hudson Yang:
'Eddie Huang'
Forrest Wheeler:
'Emery Huang'
Ian Chen:
'Evan Huang'
Lucille Soong:
'Grandma Huang'
Paul Scheer:
'Mitch'

Debut

February 4, 2015
The Latest On
Fresh Off the Boat
10/2/16 at 9:00 PM
In the season-three premiere, the Huangs encounter a classic immigrant dilemma: the identity crisis.
Sunday
Tuesday
Wednesday
Thursday
Friday
Saturday
On Hiatus:

The Affair, The Americans,American Horror Story, The Americans, Archer, Ash Vs. Evil Dead, The Bachelor, Ballers, Bloodline, Broad City, Daredevil, Doctor Who, Fargo, The Fosters, Game of Thrones, Girls, Halt and Catch Fire, Jessica Jones, Homeland, The Knick, The Leftovers, Louie, The Man in the High Castle, Master of None, Masters of Sex, Mr. Robot, The Night Of, Orphan Black, Outlander, The Real Housewives of New York, Roadies, Scream Queens, Silicon Valley, Togetherness, Transparent, True Detective, UnREAL, Veep
The Archives:

24: Live Another Day, 30 Rock, America's Next Top Model, Arrested Development, Big Love, The Blacklist, Bored to Death, BrainDead, Breaking Bad, The Bridge, Celebrity Apprentice, Cougar Town, Curb Your Enthusiasm, Dexter, Downton Abbey, Eastbound and Down, Enlightened, The Following, Friday Night Lights, Glee, Gossip Girl, Hannibal, Hell on Wheels, How I Met Your Mother, Jersey Shore, Justified, The Killing, The Legend of Korra, Lost, Luck, Mad Men, Maron, Modern Family, The Office, Parenthood, Parks and Recreation, Power, Project Runway, Ray Donovan, The Real Housewives of New Jersey, Real Husbands of Hollywood, Revenge, Revolution, Rubicon, The Sing-Off, Smash, Supernatural, Terra Nova, Top Chef, Top Chef Masters, True Blood, Under the Dome, Up All Night, The Voice, Work of Art, The X Factor