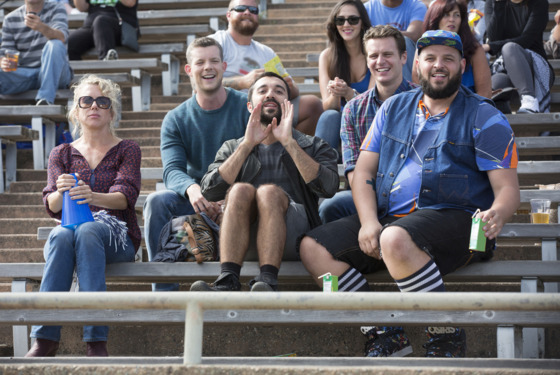 Season 02
Episode 11
Looking Top to Bottom
This week welcomed back the show's distinctive, subtle groove.
This show is starting to look dangerously soapy.
The guys head into the woods.
Schedule

Sundays, 10:30 p.m.
HBO

Cast

Jonathan Groff:
'Patrick'
Frankie J. Alvarez:
'Agustín'
Murray Bartlett:
'Dom'
Raúl Castillo:
'Richie'

Creators

Andrew Haigh, Michael Lannan

Producers

Mark Douglas, Kathy Landsberg, Sarah Condon, David Marshall Grant, Andrew Haigh

Debut

January 19, 2014
MORE +
1/11/15 at 10:30 AM
"It's dangerous to share too much!"
Sunday
Tuesday
Wednesday
Friday
Saturday
On Hiatus (Returning Soon):
The Archives:

24: Live Another Day, 30 Rock, American Idol, America's Next Top Model, Arrested Development, The Bachelor, Big Love, The Blacklist, Bored to Death, Breaking Bad, The Bridge, Celebrity Apprentice, Cougar Town, Curb Your Enthusiasm, Dexter, Eastbound and Down, Enlightened, The Following, Friday Night Lights, Gossip Girl, Hell on Wheels, How I Met Your Mother, Jersey Shore, The Killing, The Legend of Korra, Lost, Luck, Maron, Modern Family, The Office, Project Runway, The Real Housewives of New Jersey, Real Husbands of Hollywood, Revenge, Revolution, Rubicon, The Sing-Off, Smash, Supernatural, Terra Nova, Top Chef, Top Chef Masters, True Blood, Under the Dome, Up All Night, The Voice, Work of Art, The X Factor