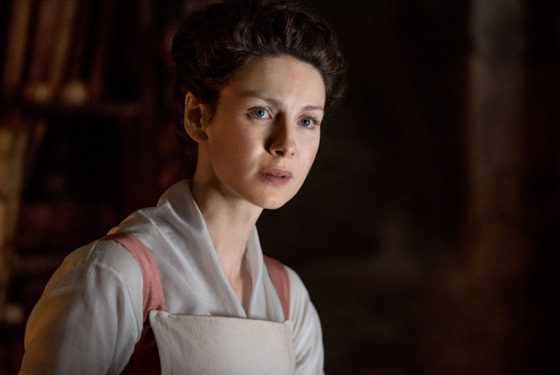 Season 02
Episode 03
Useful Occupations and Deceptions
The cardinal risk of mixing sex with time travel: What if your current lover erases your future lover from existence?
Claire and Jamie play the long game against France's overdressed, oversexed aristocrats.
Everyone's favorite bigamist is back! And she's having a very bad day.
Outlander's finale puts the recent brouhaha over Sansa Stark and Ramsey Bolton's wedding night to shame.
Out of the frying pan and into the Pit of Despair.
Someone please GIF the hell out of Jenny milking herself like a boss among the ferns.
The unwashed rabble have the temerity to mock Jenny's labor pains — these are the forefathers of #GamerGate, one imagines.
In which we see a penis (not Jamie's).
Did Claire time-travel only to get burned at the stake?
A witch, a duke, and a dead baby walk into a bar ...
This is Outlander, aka Game of Thrones for librarians.
Black Jack rears his sadistic head again.
Extreme brutality followed by possible bliss.
A trip to collect taxes proves ... taxing.
Claire is given the Ice Bucket Challenge by Mrs. Fitz.
Jamie takes his shirt off and a bunch of other stuff happens.
Welcome to 18th-century Scotland — and our Outlander recap.
Schedule

Saturdays, 9 p.m.
Starz

Cast

Caitriona Balfe:
'Claire Randall'
Sam Heughan:
'Jame Fraser'
Tobias Menzies:
'Frank Randall'
Graham McTavish:
'Dougal MacKenzie'
Duncan Lacroix:
'Murtagh Fraser'
Grant O'Rourke:
'Rupert MacKenzie'

Creator

Ronald D. Moore

Producers

Jim Kohlberg, Ronald D. Moore, Paulo de Oliveira, Ira Steven Behr, Maril Davis, Toni Graphia, Anne Kenney

Debut

August 9, 2014
MORE +
4/10/16 at 9:00 PM
Catching up with Starz's Scottish time-travel, feminist, sci-fi fantasy.
Sunday
Tuesday
Wednesday
Thursday
Friday
Saturday
On Hiatus:

The Affair, American Horror Story, The Americans, Archer, Ash Vs. Evil Dead, The Bachelor, Bloodline, Broad City, Daredevil, Doctor Who, Fargo,Game of Thrones, Girls, Halt and Catch Fire, Jessica Jones, Homeland, The Knick, The Leftovers, Louie, The Man in the High Castle, Master of None, Masters of Sex, Mr. Robot, Orphan Black, Outlander, The Real Housewives of New York, ,Scream Queens, Silicon Valley, Togetherness, Transparent, True Detective, UnREAL, You're the Worst, Veep
The Archives:

24: Live Another Day, 30 Rock, America's Next Top Model, Arrested Development, The Bachelor, The Bachelorette, Big Love, The Blacklist, Bored to Death, Breaking Bad, The Bridge, Celebrity Apprentice, Cougar Town, Curb Your Enthusiasm, Dexter, Downton Abbey, Eastbound and Down, Enlightened, The Following, Friday Night Lights, Glee, Gossip Girl, Hannibal, Hell on Wheels, How I Met Your Mother, Jersey Shore, Justified, The Killing, The Legend of Korra, Lost, Luck, Mad Men, Maron, Modern Family, The Office, Parenthood, Parks and Recreation, Project Runway, The Real Housewives of New Jersey, Real Husbands of Hollywood, Revenge, Revolution, Rubicon, The Sing-Off, Smash, Supernatural, Terra Nova, Top Chef, Top Chef Masters, True Blood, Under the Dome, Up All Night, The Voice, Work of Art, The X Factor