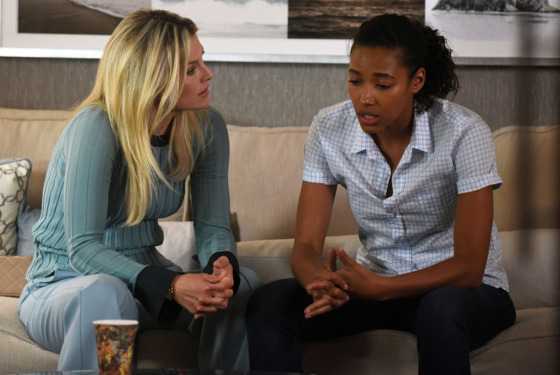 Season 01
Episode 04
The Break
Is there a love triangle brewing in San Diego?
How will Ginny react when she finds out about Mike and Amelia?
After a rocky pilot, "The Interim" is a massive improvement.
Pitch tells a story about a woman in baseball, but it's still a boys' club.
Schedule

Thursdays, 9 p.m.
FOX

Cast

Kylie Bunbury:
'Ginny Baker'
Mark-Paul Gosselaar:
'Mike Lawson'
Mark Consuelos:
'Oscar Arguella '
Ali Larter:
'Amelia Slater'
Mo McRae:
'Evelyn Sanders'
Meagan Holder:
'Amelia Slater'
Tim Jo:
'Eliot'
Dan Lauria:
'Al Luongo'

Producer

Dan Fogelman, Rick Singer

Debut

September 22, 2016
9/23/16 at 3:51 PM
It's still very early to draw any definitive conclusions, but here's what we know so far.
9/23/16 at 8:53 AM
"It's not just about the surprising twist, but hopefully it also makes sense for the rest of the show."
8/6/16 at 12:44 PM
A pitch-perfect tactic.
Sunday
Tuesday
Wednesday
Thursday
Friday
Saturday
On Hiatus:

The Affair, The Americans,American Horror Story, The Americans, Archer, Ash Vs. Evil Dead, The Bachelor, Ballers, Bloodline, Broad City, Daredevil, Doctor Who, Fargo, The Fosters, Game of Thrones, Girls, Halt and Catch Fire, Jessica Jones, Homeland, The Knick, The Leftovers, Louie, The Man in the High Castle, Master of None, Masters of Sex, Mr. Robot, The Night Of, Orphan Black, Outlander, The Real Housewives of New York, Roadies, Scream Queens, Silicon Valley, Togetherness, Transparent, True Detective, UnREAL, Veep
The Archives:

24: Live Another Day, 30 Rock, America's Next Top Model, Arrested Development, Big Love, The Blacklist, Bored to Death, BrainDead, Breaking Bad, The Bridge, Celebrity Apprentice, Cougar Town, Curb Your Enthusiasm, Dexter, Downton Abbey, Eastbound and Down, Enlightened, The Following, Friday Night Lights, Glee, Gossip Girl, Hannibal, Hell on Wheels, How I Met Your Mother, Jersey Shore, Justified, The Killing, The Legend of Korra, Lost, Luck, Mad Men, Maron, Modern Family, The Office, Parenthood, Parks and Recreation, Power, Project Runway, Ray Donovan, The Real Housewives of New Jersey, Real Husbands of Hollywood, Revenge, Revolution, Rubicon, The Sing-Off, Smash, Supernatural, Terra Nova, Top Chef, Top Chef Masters, True Blood, Under the Dome, Up All Night, The Voice, Work of Art, The X Factor