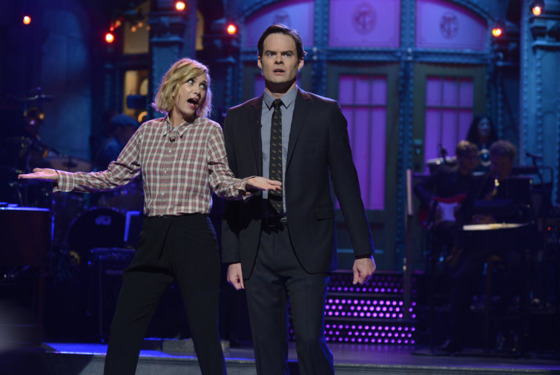 Season 40
Episode 04
Bill Hader/Hozier
Along with Kristen Wiig. 
Unfortunately, Silverman's career trajectory since leaving the show is pretty much the opposite of how the episode she hosted went.
You could have seen those impressions coming.
And Fred Armisen mocks Mayor Bloomberg.
A consistently funny episode!
Plus, Johansson mocks Johansson, and Arcade Fire tries to be funny.
But he does kiss Jason Sudeikis.
Wiig as O'Donnell! Samberg in everything.
And a lot of flamboyant humor was attempted.
Who's looking forward to season 36?
Betty White talked like a sailor on 'SNL' last night and it totally worked.
Where can we get a Brownie Husband?
Jude Law gave it his all in this lackluster episode.
The weird guy with the beard was great, but the rest of the cast couldn't keep pace.
She was better than expected as host, but the less said about her musical performances, the better.
Barkley was fine, but the night belonged to Alicia Keys.
She elicited nearly as many laughs from the crowd last night as she did gasps for her sexy attire.
He was so good that he made us forget January Jones! (Almost.)
Being nervous is forgiveable, but being unprepared? Not so much.
Lady Gaga dropped an S-bomb on last night's episode during a performance of "Paparazzi."
And the final performances of Bill Hader and Fred Armisen.
On Hiatus (Returning Soon):
On Hiatus (Returning in 2015):
The Archives:

24: Live Another Day, 30 Rock, American Idol, America's Next Top Model, Arrested Development, The Bachelor, Big Love, The Blacklist, Bored to Death, Breaking Bad, The Bridge, Celebrity Apprentice, Cougar Town, Curb Your Enthusiasm, Dexter, Eastbound and Down, Enlightened, The Following, Friday Night Lights, Gossip Girl, Hell on Wheels, How I Met Your Mother, Jersey Shore, The Killing, The Legend of Korra, Lost, Luck, Maron, Modern Family, The Office, Project Runway, The Real Housewives of New Jersey, Real Husbands of Hollywood, Revenge, Revolution, Rubicon, The Sing-Off, Smash, Supernatural, Terra Nova, Top Chef, Top Chef Masters, True Blood, Under the Dome, Up All Night, The Voice, Work of Art, The X Factor