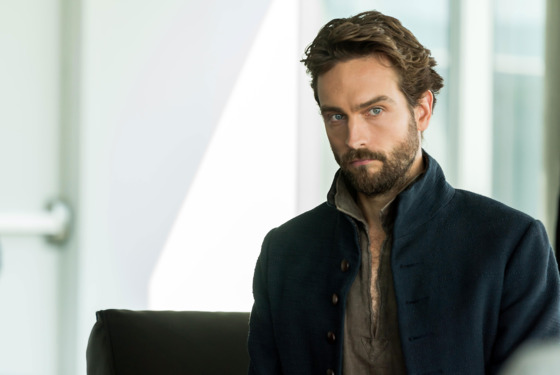 Season 04
Episode 03
Heads of State
A humble suggestion: Sleepy Hollow should rebuild around Crane, Jenny, and Jake.
Molly might be the savior that Sleepy Hollow desperately needs.
Yet again, Sleepy Hollow tries to start all over.
Schedule

Mondays at 9 p.m.

Cast

Tom Mison:
'Ichabod Crane'

Nicole Beharie:
'Abbie Mills'

Orlando Jones:
'Captain Frank Irving'

Lyndie Greenwood:
'Jenny Mills'

Katia Winter:
'Katrina Crane'

John Noble:
'Henry Parrish'

Creator

Alex Kurtzman, Robert Orci

Debut

September 16, 2013
MORE +
The Latest On
Sleepy Hollow
5/13/16 at 3:39 PM
Abbie Mills was controversially killed off in season three.
Sunday
Monday
Tuesday
Thursday
Friday
Saturday
On Hiatus:

The Affair, The Americans,American Horror Story, The Americans, Archer, Ash Vs. Evil Dead, The Bachelor, Ballers, Bloodline, Broad City, Daredevil, Doctor Who, Fargo, The Fosters, Game of Thrones, Girls, Halt and Catch Fire, Jessica Jones, Homeland, The Knick, The Leftovers, Louie, The Man in the High Castle, Master of None, Masters of Sex, Mr. Robot, The Night Of, Orphan Black, Outlander, The Real Housewives of New York, Roadies, Scream Queens, Silicon Valley, Togetherness, Transparent, True Detective, UnREAL, Veep
The Archives:

24: Live Another Day, 30 Rock, America's Next Top Model, Arrested Development, Big Love, The Blacklist, Bored to Death, BrainDead, Breaking Bad, The Bridge, Celebrity Apprentice, Cougar Town, Curb Your Enthusiasm, Dexter, Downton Abbey, Eastbound and Down, Enlightened, The Following, Friday Night Lights, Glee, Gossip Girl, Hannibal, Hell on Wheels, How I Met Your Mother, Jersey Shore, Justified, The Killing, The Legend of Korra, Lost, Luck, Mad Men, Maron, Modern Family, The Office, Parenthood, Parks and Recreation, Power, Project Runway, Ray Donovan, The Real Housewives of New Jersey, Real Husbands of Hollywood, Revenge, Revolution, Rubicon, The Sing-Off, Smash, Supernatural, Terra Nova, Top Chef, Top Chef Masters, True Blood, Under the Dome, Up All Night, The Voice, Work of Art, The X Factor