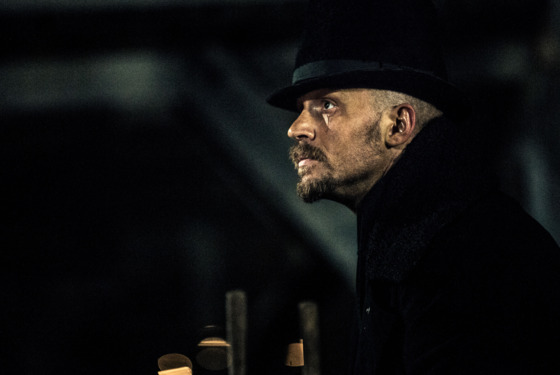 Season 01
Episode 02
Episode Two
Two episodes in, Taboo often feels like a hurried first draft.
Tom Hardy's mumble-mouthed machismo is a delight to watch.
Schedule

Tuesdays, 10 p.m.
FX

Cast

Tom Hardy
'James Keziah Delaney'
Oona Chaplin
'Zilpha Geary'
Jonathan Pryce
' Sir Stuart Strange '
Leo Bill
'Wilton'
Richard Dixon
'Pettifer'
David Hayman
'Brace'
Roy Thorn
'Blacksmith'
Michael Kelly
'Dumbarton'

Creator

Chips Hardy, Tom Hardy, Steven Knight

Producer

Debut

January 10, 2017
12/24/16 at 11:43 AM
This isn't your mom's period drama.
11/18/14 at 3:00 PM
For a show based on a story he and his father wrote.
5/3/11 at 2:40 PM
"Being an adult baby, I've had a couple reactions, some good, some not so good."
Sunday
Monday
Tuesday
Thursday
Friday
Saturday
On Hiatus:

The Affair, The Americans,American Horror Story, The Americans, Archer, Ash Vs. Evil Dead, The Bachelor, Ballers, Bloodline, Broad City, Daredevil, Doctor Who, Fargo, The Fosters, Game of Thrones, Girls, Halt and Catch Fire, Jessica Jones, Homeland, The Knick, The Leftovers, Louie, The Man in the High Castle, Master of None, Masters of Sex, Mr. Robot, The Night Of, Orphan Black, Outlander, The Real Housewives of New York, Roadies, Scream Queens, Silicon Valley, Togetherness, Transparent, True Detective, UnREAL, Veep
The Archives:

24: Live Another Day, 30 Rock, America's Next Top Model, Arrested Development, Big Love, The Blacklist, Bored to Death, BrainDead, Breaking Bad, The Bridge, Celebrity Apprentice, Cougar Town, Curb Your Enthusiasm, Dexter, Downton Abbey, Eastbound and Down, Enlightened, The Following, Friday Night Lights, Glee, Gossip Girl, Hannibal, Hell on Wheels, How I Met Your Mother, Jersey Shore, Justified, The Killing, The Legend of Korra, Lost, Luck, Mad Men, Maron, Modern Family, The Office, Parenthood, Parks and Recreation, Power, Project Runway, Ray Donovan, The Real Housewives of New Jersey, Real Husbands of Hollywood, Revenge, Revolution, Rubicon, The Sing-Off, Smash, Supernatural, Terra Nova, Top Chef, Top Chef Masters, True Blood, Under the Dome, Up All Night, The Voice, Work of Art, The X Factor