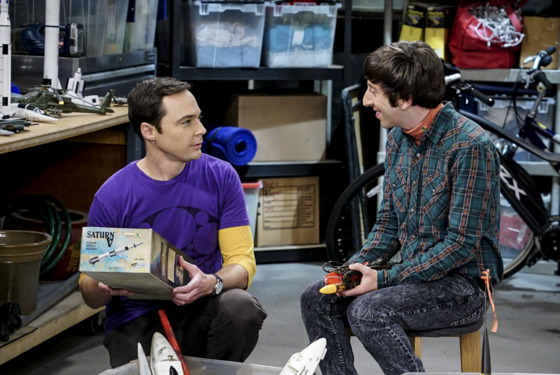 Season 11
Episode 04
The Explosion Implosion
This isn't the first time TBBT has gone askew with its characters in terms of the way they treat women.
Sheldon is already a stressed-out groomzilla.
"The Retraction Reaction" defaults to a catfight for a cheap laugh.
Let the countdown to the Shamy wedding begin!
A very Sheldon and Amy Christmas.
Sheldon tapes his final "Fun With Flags."
Sheldon freaks out about Leonard's septum surgery.
With a surprise guest-appearance by Billy Bob Thornton.
Look, season eight of any show is a tough place to be.
An episode that faced the dilemma that plagues us all — how much time to spend creating versus consuming.
Raj's new flame is not a fan of Penny.
Vulture kicks off its recaps of a show we should have been recapping since 2007.
Schedule

Mondays, 8 p.m.
CBS

Cast

Creators

Chuck Lorre, Bill Prady

Producers

Chuck Lorre, Steven Molaro, Bill Prady

Debut

September 24, 2007
MORE +
The Latest On
The Big Bang Theory
10/18/17 at 2:37 PM
Network TV has a new pale, awkward savior.
Sunday
Monday
Wednesday
Friday
Saturday
On Hiatus:

The 100, The Affair, The Americans, American Gods, Archer, Arrow, Ash Vs. Evil Dead, Atlanta The Bachelor, Ballers, Billions, Black Mirror, Bloodline, BoJack Horseman, Catastrophe, Crashing, The Crown, Daredevil, Designated Survivor, Difficult People, Divorce, Doctor Who, Fargo, The Fosters, Game of Thrones, The Girlfriend Experience, Glow, The Good Fight, The Handmaid's Tale, House of Cards, Insecure, iZombie, Jessica Jones, Legion, The Magicians, The Man in the High Castle, Marvel's Luke Cage, Master of None, Nashville, New Girl, Preacher, Quantico, The Real Housewives of New York, Silicon Valley, Togetherness, Unbreakable Kimmy Schmidt, UnREAL, Veep, Westworld, Younger, Zoo
The Archives:

24: Live Another Day, 30 Rock, Agent Carter, American Crime, America's Next Top Model, Arrested Development, Big Love, Bored to Death, BrainDead, Breaking Bad, The Bridge, The Catch, The Carmichael Show, Celebrity Apprentice, The Comeback, Community, Cougar Town, Curb Your Enthusiasm, Dexter, Downton Abbey, Eastbound and Down, Enlightened, The Following, Friday Night Lights, The Get Down, The Good Wife, Glee, Gossip Girl, The Grinder, Hannibal, Heroes Reborn, Hell on Wheels, How I Met Your Mother, Jersey Shore, Justified, The Killing, The Knick, The Leftovers, The Legend of Korra, Looking, Louie, Lost, Luck, Maron, Mad Men, Masters of Sex, Minority Report, The Night of, The Office, Parenthood, Parks and Recreation, Pitch, Penny Dreadful, Pretty Little Liars, Project Runway, Ray Donovan, The Real Housewives of New Jersey, Real Husbands of Hollywood, Review, Revenge, Revolution, Roadies, Rubicon, Sense8, The Sing-Off, Sleepy Hollow, Smash, Sons of Anarchy, The Strain, Terra Nova, Top Chef, Top Chef Masters, True Blood, Under the Dome, Up All Night, The vampire Diaries, Vinyl, The Voice, Work of Art, The X Factor