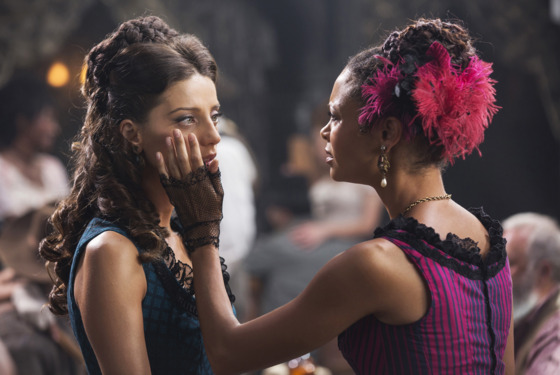 Season 01
Episode 04
Dissonance Theory
Westworld is a world designed largely by and for men.
Is consciousness truly a gift to Dolores, or a form of cruelty?
What's the most dangerous thing that can exist in a fantasy world? Something real.
In its debut, Westworld offers a self-aware critique of escapism.
Schedule

Sundays 9 p.m.
HBO

Cast

Anthony Hopkins:
'Dr. Robert Ford'
Ed Harris:
'The Man in Black'
Evan Rachel Wood:
'Dolores Abernathy'
James Marsden:
'Teddy Flood'
Thandie Newton:
'Maeve Millay'
Jeffrey Wright:
'Bernard Lowe'
Tessa Thompson:
'Charlotte Hale '
Rodrigo Santoro:
'Hector Escaton'
Jimmi Simpson:
'William'
Shannon Woodward:
'Elsie Hughes '

Creator

Jonathan Nolan, Lisa Joy Nolan

Producer

J.J. Abrams, Bryan Burk, Jonathan Nolan, Lisa Joy Nolan

Debut

October 2, 2016
Sunday
Tuesday
Wednesday
Thursday
Friday
Saturday
On Hiatus:

The Affair, The Americans,American Horror Story, The Americans, Archer, Ash Vs. Evil Dead, The Bachelor, Ballers, Bloodline, Broad City, Daredevil, Doctor Who, Fargo, The Fosters, Game of Thrones, Girls, Halt and Catch Fire, Jessica Jones, Homeland, The Knick, The Leftovers, Louie, The Man in the High Castle, Master of None, Masters of Sex, Mr. Robot, The Night Of, Orphan Black, Outlander, The Real Housewives of New York, Roadies, Scream Queens, Silicon Valley, Togetherness, Transparent, True Detective, UnREAL, Veep
The Archives:

24: Live Another Day, 30 Rock, America's Next Top Model, Arrested Development, Big Love, The Blacklist, Bored to Death, BrainDead, Breaking Bad, The Bridge, Celebrity Apprentice, Cougar Town, Curb Your Enthusiasm, Dexter, Downton Abbey, Eastbound and Down, Enlightened, The Following, Friday Night Lights, Glee, Gossip Girl, Hannibal, Hell on Wheels, How I Met Your Mother, Jersey Shore, Justified, The Killing, The Legend of Korra, Lost, Luck, Mad Men, Maron, Modern Family, The Office, Parenthood, Parks and Recreation, Power, Project Runway, Ray Donovan, The Real Housewives of New Jersey, Real Husbands of Hollywood, Revenge, Revolution, Rubicon, The Sing-Off, Smash, Supernatural, Terra Nova, Top Chef, Top Chef Masters, True Blood, Under the Dome, Up All Night, The Voice, Work of Art, The X Factor