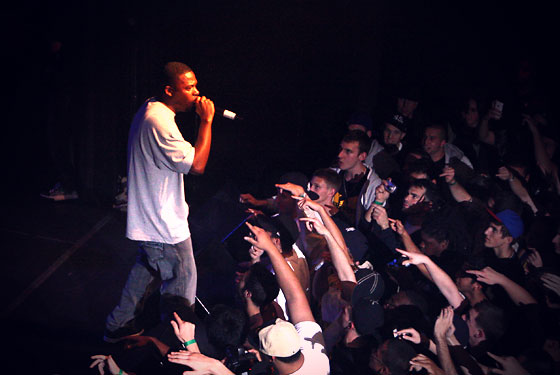 The GZA, the Genius, the Curator. For those attending Friday's Fillmore show — at which the Wu-Tang veteran performed all of his classic 1995 solo album, Liquid Swords — it was something of a night at the museum. Always the Clan's least dedicated follower of fashion, but most pious devotee to the art of rhyme, the GZA ably, if statically, performed the album from front to back to a reverent, if static, crowd.
Those hoping GZA would put on some sort of vibrant exhibition of script-flipping were in for a guillotine hit to their expectations. Live, the strange, haunted corners of the album were somewhat lost; it was a chillingly thin piece of RZA production on record, but live, the drums just evaporated. This was made up for, somewhat, by the cheap thrill of the crowd screaming along to infamous Liquid Swords lines like, "Bitches puttin' airport keys in their vaginas." And despite an electrifying appearance by the RZA (and a lackluster performance of the Only Built 4 Cuban Linx classic "Incarcerated Scarfaces" by Raekwon), most of the Clan, meanwhile, were felt only in their absence: no Method Man for "Shadowboxin," no Ghostface on "4th Chamber."
It took only 40 minutes to cycle through the album, but there was still an O.D.B. tribute and a truncated run through some of GZA's best Wu verses. This was never supposed to be a thrill ride or even a trip down memory lane, though: The GZA is an aesthete, and for him, the architecture of his flow should simply be enough for anyone. Which is why he implored the crowd to follow him through the 105 bars of "0% Finance," from his new album, Pro Tools, even though "y'all might not know this one." If Liquid Swords was for us, that one was for him.
Related: GZA on His New Album, Revisiting 'Liquid Swords,' and the Problem With RZA