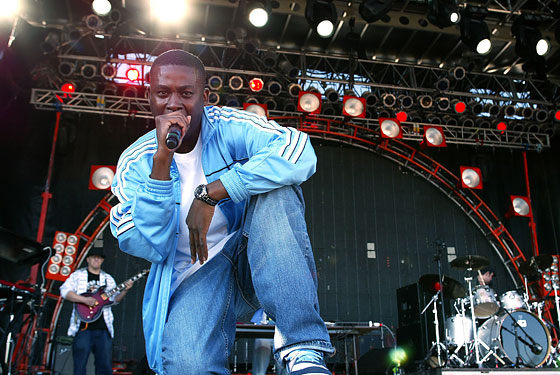 The first wave of Wu-Tang solo albums still elicits warm and fuzzy feelings for fans of the Clan. It was the mid-nineties, right after the game-changing Enter the Wu-Tang (36 Chambers), and a string of classics — Method Man's Tical, ODB's Return to the 36 Chambers, Raekwon's Only Built 4 Cuban Linx — made the Wu seem infallible. But perhaps no one album was more fundamental in creating the can-do-no-wrong reputation than the GZA's Liquid Swords. Everything about the album oozed a steely, deadly professionalism — the cover art; the spooky kung fu samples; RZA's hard-nosed production; and, of course, that flow. It belonged to an unsentimental hip-hop assassin; it was never flashy, just airtight, with vibrant complete sentences tumbling one after the other. GZA, whose latest solo album, Pro Tools, came out last month, is revisiting the album on his current tour, which touches down at the Fillmore New York at Irving Plaza tonight. He talked to Vulture about the album's blunt-fueled recording sessions, the divisive 8 Diagrams, and why fans should start getting excited for RZA collaborations still to come.
What are some of your memories from recording Liquid Swords?
Most of the memories is just being in the RZA's house in that basement. The whole Clan was there. We didn't really have set hours. As far as the mood? Blunt. Not saying that was needed. I don't smoke now. But there was a lot of smoking going on. Sometimes weed just gets you in the creative state of mind. Analyzing stuff more, getting into it. The day would start, I would come over, it might be two in the afternoon, then he would start playing the beat. We might play chess. I'd start writing after playing chess. The beat would run and run and run, and it'd maybe like eight hours before I'd finish a verse.
Where were you getting your weed from back then?
I was getting it from Brooklyn. I was either bringing it or RZA had it. It wasn't the good stuff that people smoke nowadays, the greenery, scenery stuff. It had a lot of seeds in it. But I stopped smoking about two years ago. I smoked for so many years, blunts, since '81, had to give the lungs a break.
Does it affect your writing?
No difference, whether I smoke or not. I don't really care for it now. I don't need it to write. I'm stronger lyrically now than I've ever been.
We've heard that you taught Masta Killa and Inspectah Deck how to rhyme in complete sentences — is that true?
Well, I schooled Masta Killa in the early days. I gave him a few pointers. And as far as Inspectah Deck, just based on his sentence structure, he's one of my favorites out the Clan. And his graphic lyrics — he paints good pictures fast, without using a lot of words. We were talking one day, and he was saying, "I learned from you," and he pointed to me. He said, "Once you told me just write sentences, and I just took it from there." If he's giving me the credit, I'll take it.
You talk on Pro Tools about seeing fans with Wu-Tang tattoos, and how much that means to you to have a dedicated fan base. When did you start thinking that way — that having a thousand dedicated fans is better than having a million ambivalent ones?
It's always been like that for me. It's always been about shelf life. Long-term parking, not short-term. That's why I take the time that I do when I write.
What was your reaction to 8 Diagrams?
Well, some of the group weren't pleased with the album. To me, I wasn't saying I was displeased. I wasn't totally satisfied. I just thought that it could have been a whole lot better. It just wasn't what I was used to. It was nowhere near Wu-Tang Forever. Wu-Tang Forever is like a ten, and that's more like a two. I'm not gonna blame it all on the beats. You can't really blame it on music. You have to know what to do with the music. What the vibe is going. Some MCs don't take the time to take a beat home, or just vibe with it and just figure out, "How do I attack this track?" We have to come together as a producer and an MC. [But] I wasn't too excited with the music like that. It was more or less scoring music, for different [movie] scenes, which is great. [But] I know I can get with RZA and do a hundred times better.
So you think RZA was just too caught up in his cinematic scoring work at the time?
I think it's been like that for years.
You think you and RZA will ever do a full album together again?
I want to. Yeah. I want to. We need that. That's needed. We have that chemistry. We had that connection, even when he wasn't a producer. When he was just beating on tables, when we were beating on our chests.