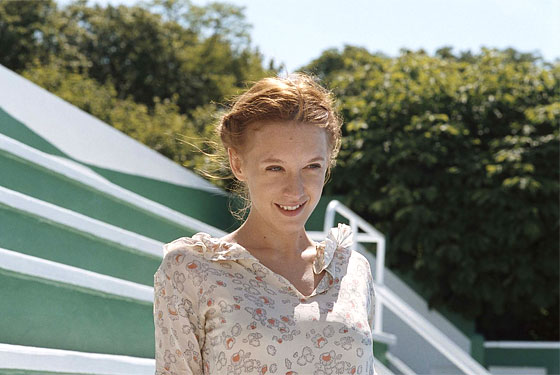 Ludivine Sagnier first made waves Stateside with her revealing performance in François Ozon's subtle 2003 thriller Swimming Pool. Although she'd already demonstrated her versatility in a number of films, including Ozon's own 8 Women (2002), Pool made her a superstar — and suddenly the actress was seen as an international screen sex siren. So it may come as a surprise to some viewers to see Sagnier's performance in Claude Miller's powerful Holocaust drama A Secret, in which the actress plays a scorned Jewish wife suffering in silence while her husband makes doe eyes at a statuesque athlete (Cecile de France). The film, based on Phillipe Grimbert's autobiographical novel, is a family drama structured like a mystery — and it all turns on Sagnier's understated performance. Vulture caught up with the 29-year-old actress via phone from Paris.
You've played two very different roles in films released here in the last month: Claude Chabrol's A Girl Cut in Two, in which you played a weathergirl who seduces two men, and now Claude Miller's A Secret. Do you consciously seek out diverse parts, or is this just a coincidence?
No, it's actually very planned. That's how I like to play with cinema — the pleasure of my work is in the diversity of parts I can play, the diversity of universes I can inhabit. But I don't usually choose a part. I usually choose a director first, and then I choose the part. And if I have to do a part that I feel I've done already, it's a lot harder for me to get inspired.

Did you find yourself getting typecast a lot after the success of Swimming Pool?
Kind of. Especially in America. After Swimming Pool became a hit, I thought maybe I'd have the chance to work in the U.S. But all the parts I was offered were bimbos and girlfriend parts. I was always lying on the beach or next to a swimming pool! Luckily, in France, I don't have to suffer from that.
And in A Secret, your character, Anna, is definitely the woman who's not in the swimming pool, as your romantic rival is the one who's the champion diver.
Usually I'm the one in the spotlight, but this time I'm in the shadows. And I really liked that. The previous film I made with Claude Miller (La Petite Lili) was an adaptation of Chekhov's The Seagull, and I was playing an ambitious actress. And when I received the script for A Secret, I assumed he wanted me to play the part of the more glamorous, sexy character. But I remember thinking I wanted to play Anna, the other, more quiet character. I thought maybe [Miller] didn't have the imagination to think of me for her. [Laughs]. But I was wrong.
But in her own way she is a remarkable character. She's quiet and melancholy, but she's also very mysterious — almost like there's something unspoken about her. And she also has to hold the whole story together, in a way. How do you approach a part like this?
I had different ways of thinking about the part. For starters, it's a period movie, and it's the Second World War, so there were historical details I had to absorb. It was a part that really required some more thought and some work. But there was also the idea of the Medea complex. It's a psychological complex named after the Greek queen who killed her children because she was no longer loved by Jason, her husband. And this is one way of looking at women who are starved for affection and do drastic, self-destructive things.
The film also offers a French angle on the Holocaust. Is it still tough for French people to see films about this period?
France is still absolutely traumatized by this part of their history. The guilt is so strong, and that's what part of this film is about. But you have hundreds and hundreds of different perspectives on it. In some ways, everything has already been done about it. But what I like about A Secret is that it's a very ordinary story in a sense — a love triangle — but because it's happening during this particular moment, it becomes extraordinary.