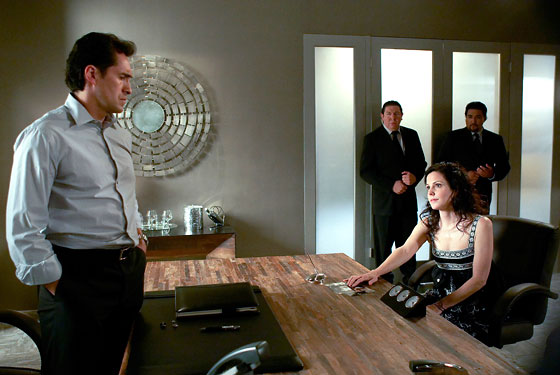 Jenji Kohan has some serious moxie. This episode, the second to last this season, is nauseating. Lest we forget that this naughty, sunny drama is actually about one of the nastiest, dirtiest underground businesses in the world, Kohan brings it home. And once again, we're thinking, how — no, really, how — are they going to get out of this convincingly?
Nancy gives everything up: the tunnel, Guillermo, her lucrative income. We saw that coming, but we didn't see this: Cesar, the asymmetrically eared right-hand man to Mayor Esteban, flaying and shooting dead the FBI agent who snitched on the snitch Nancy Botwin. It's like something out of Nightmare on Elm Street, as directed by Quentin Tarantino. And that's where it ends: Nancy exposed, and Esteban, who has just declared his love for her, sure to be pissed. Here's how it goes down: The FBI raid the maternity store while Nancy is on a spookily romantic date with Mayor Esteban. As Esteban whirls Nancy around his living room, promising that no more girls will come through the tunnel, Guillermo, his men, and the Mexican cops — come to "arrest" their men — encounter the FBI underground, and Guillermo is hauled off. The sepia-tinted scene is eerie and beautiful. Meanwhile, Shane steals pot from his older brother, and Celia apologizes to Isabelle for all the horrendous abuse she has heaped on her.

We were liking Esteban and Nancy: He gets her, and she him. We see it in her eyes — this is not cutesy, sisterly love between one outcast and another. It's heavy, primal devouring love. But, as Esteban says, Nancy is reckless and impulsive, but not suicidal. We've seen it in Cesar's eyes for a while; he'd love to use that electric sander on her milky cheeks. But this isn't something Weeds watchers are ready for — we can hardly contemplate the possibility. Besides the death of a loved one — Celia? Silas? Shane?? — how will Jenji Kohan convince us that Nancy herself will get away with snitching on a powerful drug cartel. Surely, love won't get her through this.