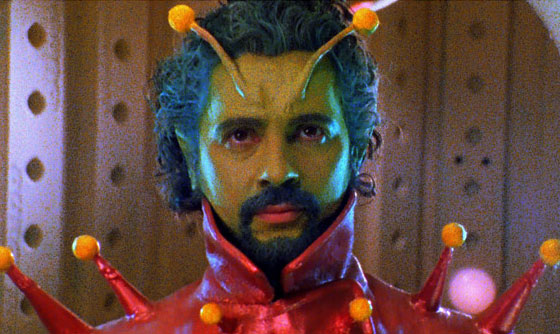 Christmas on Mars, the Flaming Lips' long-awaited film debut, will finally be shown to the public this year. We attended a special advance screening alongside several Santa-clad Superfans at 7 a.m. this morning at Off–Off Broadway mainstay the Kraine Theater in the East Village and can indeed confirm that it's basically as weird as you'd hoped.
As B-movie sci-fi epics about humans, Martians, and the Christmas holiday go, we still prefer the 1964 film Santa Claus Conquers the Martians. Of course, that film didn't feature a vagina-headed marching band from hell, a spaceship captain who dresses like a seventies gym teacher and is fond of saying things like "I will grudge-fuck your grandmother in her grave," or SNL's Fred Armisen singing "Silent Night" to comfort people suffering from space-induced existential psychosis. Other balls-out highlights include an animated silhouette of a buxom Viking lass who urinates to test the surround-sound system of your movie theater and Wayne Coyne as a silent, dignified Martian who "might just be the best Santa Claus" there ever was, and travels via spaceship through a glowing vagina superimposed on a map of the galaxy.
All of the Lips appear in the film, as does Modest Mouse's Isaac Brock, indie film actor Adam Goldberg as a supremely hostile psychologist, and — although we couldn't find him in the film — Elijah Wood (our bet is that it's him as one of the vagina-headed aliens in a space suit with his … er … mouth opening and closing, holding a dead baby in a dream sequence). It's probably best if you follow the instructions the Lips give you at the beginning of the film: laugh, cry, be happy, be sad, have sex, and smoke pot while watching it.