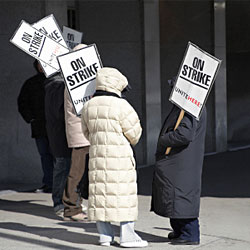 The Screen Actors Guild took the first step toward a potential work stoppage yesterday, authorizing its National Board with the right "to call a strike only if the National Board deems it necessary and unavoidable to do so." The Alliance of Motion Picture and Television Producers had been playing hardball with SAG, ignoring a letter earlier this week that attempted to jump-start negotiations over the issue of royalties from Internet-distribution revenue. In response to the authorization vote, the AMPTP plays it cool and blames our great national scapegoat, the economy:
Is this really the time for anyone associated with the entertainment business to be talking about going on strike? Not only is the business suffering from recent economic conditions, but if ever there was a time when Americans wanted the diversions of movies and television, it is now. The DGA, WGA and AFTRA reached agreement on comparable terms months ago, during far better economic times, and it is unrealistic for SAG negotiators now to expect even better terms during this grim financial climate. This is the harsh economic reality, and no strike will change that reality.

Meaning the crappy economy might make SAG think twice about striking? Hooray for crappy economy!
Urgent: SAG/AMPTP Game-Changer! [Deadline Hollywood Daily]