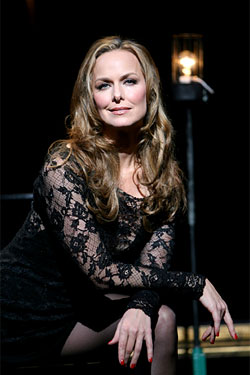 Melora Hardin isn't one of those sunglass-wearing, no-pictures-please, how-dare-you-look-at-me actresses. In fact, she's flattered if you recognize her as Baby from the short-lived TV version of Dirty Dancing or as the woman who asked Ross to talk dirty on Friends or any of the many parts she's taken on since childhood — including, of course, Jan Levinson, the no-nonsense corporate executive turned Michael Scott love interest turned unstable single mom on The Office. With filming of the show now on hiatus, the Joffrey-trained dancer is filling her time not with candle-making but with musical theater, and tonight she'll make her Broadway debut as Roxie Hart in Chicago the Musical. Hardin spoke with Vulture about tackling the iconic stage role and why Jan isn't evil.
How did this part come about?
Well, I sort of thought one day I'd like to use all these skills that I've been honing my whole life. So I kind of talked to my manager and my agent about the idea of using those skills and we said, "You know what? Why don't you go audition for Chicago?" And so I did. And Barry Weissler was very excited and offered me the part right on the spot and was sort of like, "Where did you come from? How do you have all this training? How come you haven't been in New York? Why aren't you doing Broadway?" So that was a pretty nice way to be received.
Why Roxie and not Velma?
I actually auditioned for both roles, and they said, "Oh, you're a Roxie." I think she has a wonderful kind of naiveté to her, a knowing naiveté. I guess just that she's so hungry — they both are. Both Velma and Roxie are hungry for fame and publicity, and that's the thing that makes them feel alive. But I really would have played either part.
What was it like for you learning the Fosse choreography?
I love it. I really have that kind of dancer work ethic in me, and I really love trying to create those lines and finding the right way to do it. It's very unique and specific to Fosse, and at the same time it's subtle. It's really quite fun.
So, you play Jan on The Office. She has definitely gotten more neurotic and quirky. Was that something you talked about with the writers, or was it just gradually introduced into the scripts?
I feel like we have a beautiful dance on the show where the writers pick up on the things I'm bringing to the character and I kind of am surprised by what they've given me. And together we kind of collaboratively have created this downward spiral that I feel is such a joy, obviously, to play as an actor. You just rarely see a woman like that on television. I've really had one of the best dramatic arcs — she really has changed so much and continues to change.

We recap the show every Friday morning, and we get very invested in the characters. And so we've called Jan a witch and a monster and evil because of what she's done to poor Michael. Would you care to defend your character?
[Laughs] Yeah, I don't think she's evil at all. I don't think she's wicked. I think she's just really desperately trying to find herself. I think she doesn't always make the right choices in doing so. She comes from having worked her way in a man's world, comes from like a loveless, cold marriage. She's kind of created the persona of being the woman of steel, having no feeling, and then Michael kind of comes in and suddenly says, "I don't really care about all your defense mechanisms. I'm just gonna come like a bull in a china shop crashing through, and I love you anyway." And I think that was just very seductive to her. And that I think has been translated into many different mandates. Just like how do I fix that? Well, I get a boob job. And then I get back together with Michael and live in Scranton and try to have the white picket fence and I have a candle business and I get pregnant and we have a dinner party … we try to have like a normal couple relationship. She's tried everything. I really do see it as it's just her way of trying to damper the pain that's underneath all of her actions. And she does have like a soft, gooey center, and I think Michael appeals to that. She's trying to find that in herself, but she's looking in all the wrong alleyways. I just want to know who her psychiatrist is. He's doing a really bad job.
You also have a movie with Zac Efron coming up and one with Miley Cyrus. Now you just need to hang out with the Jonas Brothers or something…
[Laughs] I know! That's what I said to someone. I'm like, "I'm going to be the oldest teen idol ever."