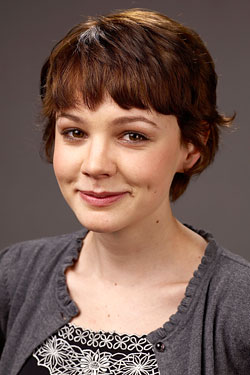 Carey Mulligan had this year's one true star-is-born moment at Sundance. She's on her way to being a serious movie star, with a sharp ensemble part in The Greatest and a gobsmacking star turn in the Nick Hornby–scripted An Education. We spoke to Mulligan about having an "out-of-body experience" at Sundance and realizing how young she looks in a school uniform.
You're the talk of the festival. Are things getting busy for you?
It's been mostly photos and TV-thingies. This is the first day I've really interviewed all day. I am not bored or jaded. I've never really done very much of this. I am having an out-of-body experience.
You're such a newcomer, I know next to nothing about you — sorry! Where are you from?
I was born in London, lived in Germany until I was 8. My father ran hotels. And then back. Now I'm just outside London. I acted all the way through school. My first job was Pride and Prejudice when I was 18 turning 19, and then I just carried on after that.
You've worked on stage and TV, but this is your first starring film role. How'd you nab it?
I got the job about five months before I started shooting, but I'd read it two years before. I felt like it'd just been going on for ever and ever and ever, and I'd wanted it forever. It's so disheartening and sad when independent films collapse. So I tried to not get my hopes up. When we started shooting, I was like, "Really? Okay."
Was there any advice from Susan Sarandon or Emma Thompson for the newcomer?
You learn a lot about how to handle yourself on a film set from people like Emma. At the end of the day, she bought three crates of wine and beer, and pizza for the whole crew, and I thought, "Now that's a proper leading lady…"
Most people will assume you're 16, but you're really 23. How'd you tap into a teenage self?
Mainly it was just thinking about the awkwardness of being 16 and your inability to cap your emotions — your inability to stop yourself from saying what's on the tip of your tongue. Then I watched it, and I was like, "I don't think I look that young." And when I am in a school uniform, I'm like, "I am a child, it's so horrible!"
You don't play a victim, and Sarsgaard doesn't play a predator. But she's clearly being taken advantage of…
I wouldn't want it to be that sort of young girl, completely being taken advantage of — and I don't think you've seen a film with this kind of dynamic. There are scenes where she initiates things, actually flips it round. He is not a bad guy; he is not a villain; there's nothing sexual about what they have together. When it collapses, it collapses because he is just [such] a lost soul.
There's been a bit of silly controversy in America over The Reader, since Kate Winslet's middle-aged character seduces a teenage boy. Has that been on your radar?
I don't know how an American audience would view it, but for an English audience, sex is consensual from 16. Sixteen or seventeen seems fairly respectable to most people, I think.
So what's next?
I am doing Uncle Vanya in spring 2010. And I just finished this film with Jim Sheridan, my first time doing an American accent, improvising, whilst holding a 3-month-old baby. It was just intense.