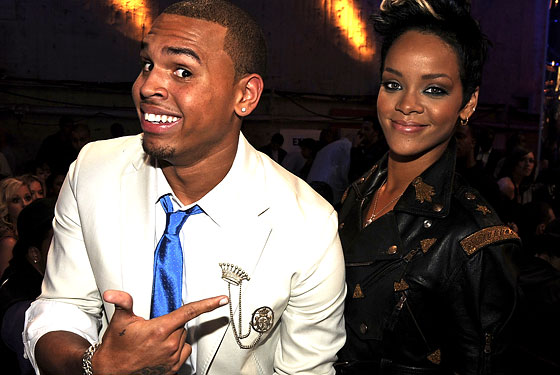 Wondering what's happened during the last 24 hours of the Rihanna–Chris Brown mess? Well, that depends on your viewpoint. If you're looking for facts and official statements, the only real developments occurred late last night, when the L.A. County district attorney's office received the details of the case, only to kick them back to the LAPD with the instructions to secure more evidence. However, if you're looking for rumor, gossip and innuendo, the tabloids and celebrity weeklies have been cranking out stories even faster than we can process them. After the jump, we break down the new theories as to what led to this fight, how Rihanna is doing, and what the fallout looks like.
What started the fight, anyway?
• The New York Daily News reports that the fight between the two erupted when "[Brown] got a booty call. He got a text. Rihanna saw it and she got upset. They started to argue. She got out of the car. He wanted her to get back in, so he grabbed her," the industry source said. "She pulled away. That's when she's told people he hit her."
• Star magazine alleges that some overly flirty behavior between Brown and Leona Lewis at Clive Davis's pre-Grammy party on Saturday night was what began the fight between the two.
• OK! Magazine chips in the most ridiculous rumor we've heard to date. Namely, that a fight broke out between Brown and Rihanna when Brown "chatted up" Paris Hilton at the Verizon and Blackberry Storm Grammy party on Saturday night.
How is Rihanna doing?
• E! News is reporting that Rihanna told the LAPD that Brown "choked her while threatening to kill her and, subsequently, she lost consciousness."
• An anonymous Rihanna confidant tells US Weekly that bruises were clearly visible on the singer's neck in early December.
What's the fallout?
• MTV News reports that radio stations have begun pulling Brown's songs from their rotation.
• The New York Post says that Jay-Z is out for Brown's hide and that "Chris is a walking dead man."
• MediaTakeOut has posted screenshots of what they purport to be Chris Brown's private Facebook page with a status update that reads: "Christopher Maurice Brown thinks you'll begin to see her true colors. Believe It!"