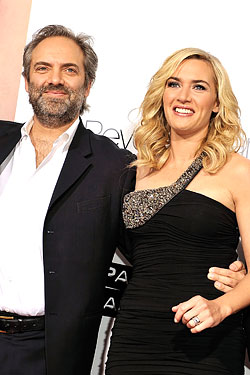 We were shocked when Kate Winslet's inevitable Oscar nomination came for her role in The Reader rather than for her role in Revolutionary Road, beloved by our own David Edelstein. But what did her husband, Sam Mendes, who directed Road, think?
"No. I mean, honestly, all I care about is that she gets recognized for an extraordinary year," he told us at the opening night of The Winter's Tale for BAM's Bridge Project on Monday. "Would I care if she didn't win? Yes. I really want her to win. But frankly, she could win for reading the phone book and I'd be happy. I'll be the first one up, cheering. When it gets to this stage, you know, all you want is for her to come out with something at the end of a long road."
Winslet's open campaigning, including her very honest declaration that she wants to win so she doesn't have to make that face where you pretend you're not disappointed, came as news to Mendes. "Is that what she said?" he said, laughing. "I haven't read it all. Yeah, she's done that face a lot over time. I've sat with her most of the times she's done it. She's good it, but I think she wants a break from that this year. Give her a break from Losing Face, everybody." America, Academy members, you know what to do.