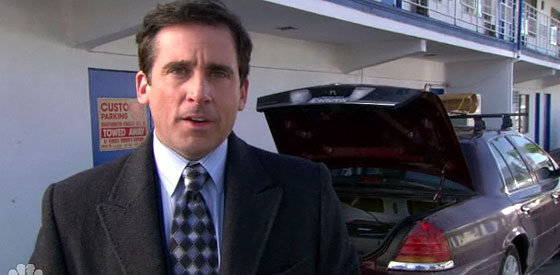 The great Amy Ryan has been away since her Holly Flax was transferred to the Nashua branch months ago. But we know Michael was pining away for her, and, after watching Pam make peace with Jim's ex, Karen, he vows to go see her. Suddenly we have an instant cliff-hanger.
It's clear that the writers recognize what they had in Holly and plan on keeping her in the conversation, even though Ryan told everyone she was too busy to stay. (She's co-starring with Philip Seymour Hoffman in his next film, Jack Goes Boating.) The episode description for next week doesn't mention anything about Ryan, or Nashua for that matter, but producers say they're hoping to get her back for the season finale. Don't play games with our heart, Office.
One wonders if the impromptu decision to rush off to Nashua — while Michael and Pam are touring various Dunder Mifflin branches, telling them secrets of Scranton's success — will ultimately cause Michael some trouble, showing off his relative immaturity and impulsiveness during the one time he's actually winning some respect, professionally. (By the way, is the show ever going tell us why Scranton's suddenly doing so well?) It's clear these "guest lectures" aren't going well, and his hilarious inability to stay calm at seeing Karen now pregnant and married ("Oh, my God, is that Jim's?") was one of the show's more inspired moments of awkwardness. But Michael's due for a professional fall. (It's also amusing to note that Karen's husband seems to look and act awfully similar to Jim.)
We can't say we're nearly as inspired by Jim and Dwight's attempts to please Kelly after missing her birthday. Though Ed Helms is nailing the right combination of ridiculousness and sad-sack pathos with his cuckholded Andy. "We have the ultimate smackdown between the Nard Dog and crippling despair, loneliness, and depression. I intend to win." We hope you do too, man.