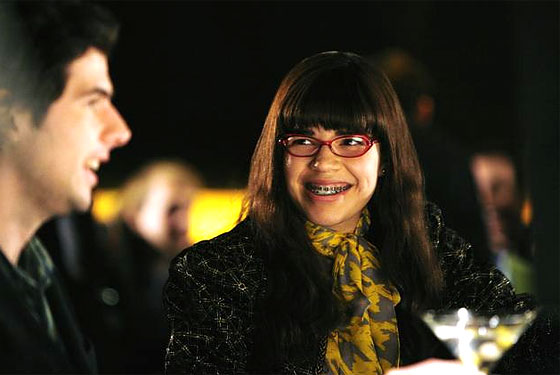 Great news for Ugly Betty fans! (Ish!) Entertainment Weekly's Michael Ausiello, who gets more scoops than Kellogg's Raisin Bran, filed an exclusive story with the headline "Ugly Betty Lives!" Awesome news, right? Well, there's only one minor issue. You see, while his statement is technically true, in that the show has yet to be canceled, if you're one of those discerning types of readers who actually continues past the headline of stories (I know, who has the time for that anymore, right?), you'll read that the exclusive his sources fed him is actually just that "ABC is on the verge of renewing Ugly Betty for a fourth season." Not renewed, mind you, but on the verge of renewing. As in, not yet renewed. For all of you confused Ugly Betty fans out there, thankfully TV by the Numbers' Robert Seidman was able to break down the situation.
Although Seidman's piece takes on an almost Nelson Muntz-ian tone at times, with the way he takes incredible pleasure in poking holes into Ausiello's exclusive non-story, his post is actually filled with a lot of excellent information. He points out that the show is clearly on the bubble, as it is performing worse than ABC's overall average ratings among 18- to 49-year-olds. He also notes that the series would need to be renewed for two more full seasons in order to approach the magical 100-episode count, which is generally (but not always) when shows get picked up for big-bucks syndication deals. He even goes so far as to advance a theory that Ausiello is getting spun by his sources because they are fearful that Ausiello's last Ugly Betty–related scoop — namely, that the show will be put on a long hiatus this spring — could be affecting how much ABC is able to charge advertisers for commercials during the program.
Hilarious beef aside, we're sad to report that Ugly Betty fans shouldn't sleep tight just yet. Just to be on the safe side, maybe now's a good time to start forwarding orthodontic rubber bands to ABC Entertainment Group president Stephen McPherson's office.
Exclusive: 'Ugly Betty' lives! [Entertainment Weekly]
Exclusive: Despite rumors, Ugly Betty's fate likely not decided until May [TVbytheNumbers]