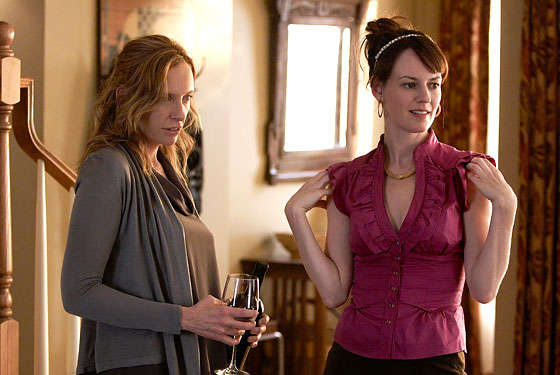 A pissing personality, an increasingly interesting hubby, appallingly jerkish in-laws, the botched boob job of the asshole sister: finally some compelling elements in this heretofore predictable show. Despite its many "hip" and "edgy" references (courtesy, one assumes, of its former-stripper-current-hipster executive producer, Diablo Cody), United States of Tara had thus far rarely succeeded in stifling our yawn. Now it's actually starting to justify the Showtime subscription.
Let's start with shockingly spiteful husband Max.

Another Alternate Reality
We had written him off as the most one-dimensional of U.S. of T. characters, but we're beginning to think Max is more than just the straight man in the house. For starters, why would an otherwise normal, decent fellow engage a — apologies to the dissociative-identity disordered — freak like Tara? Surely he's got either a kinky side, or … something. That "something" is on full display when Max brutally stands up to his in-laws, who rolled up in their R.V. with the ostensible intention of celebrating the 34th birthday of the asshole sister, Charmaine. Actual intention: They want to "save the children" from their monster of a mother.
Milquetoast Max says he "almost became Buck" to kick the ass of his meddling mother-in-law. He also becomes wildly animated when Tara is on the verge of "transitioning" into one of her alters, abruptly shuttling her into their backyard, gleefully circling her around in his a makeshift merry-go-round as if they were two kids on recess.
Even better is the "Oh no he didn't moment" of the episode when Max drags the father-in-law out to his R.V. to say to him: "My kids are safe. Maybe you should've spent more time looking after yours."
Maybe that gherkin-jerkin' husband has more going on than we thought.
The Unaltered Tara
After considering a Xanax option to help her deal with her problem parents, Tara says "nope to dope" and somehow manages to fend off a transition — that is, until the witching hour, when Max finds "her" escaped from their bed, outfitted in a red poncho and pissing on her dad, who is slumbering deeply on the sleeper sofa. (The night before he and his wife had woken in a wet bed; they wrote it off as old-man incontinence.)
Add to that the budding relationship between daughter Kate and her Styx-loving, T.G.I Friday's–knockoff boss, Charmaine's insecurity about her off-kilter nipples, and the new, little red pissing hood alter, and we've got ourselves a pretty intriguing show.