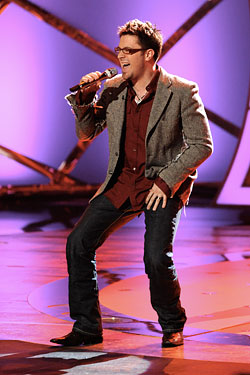 Can you believe we've made it nearly two whole months into another season of television's most obviously fixed show without insider charges of behind-the-scenes fraud? Thankfully, no longer! According to "Gatecrasher," an American Idol staffer has been loudly blabbing to people that judges and producers have already settled on this year's top four contestants: Danny Gokey, Lil Rounds, Adam Lambert, and Alexis Grace.
When asked if this was just her opinion or an actual fact, the female employee purportedly said, "Those ARE the people," and that this was more than simply speculation. What's more, she claims top brass are hoping the finale is between Grace and Gokey, since Rounds and Lambert are too much like previous winners successful contestants (Fantasia and Chris Daughtry, respectively, though we'd never really thought of Lambert as Daughtry-esque).
We're typically wary of allegations made by nameless people whose actual job functions aren't disclosed, but even if this woman is lying about her insider knowledge, all of the charges sound totally plausible to us. From the show's endless pimping of Danny Gokey's deceased wife to the judges' constant overpraise of Lil Rounds to Paula last week telling Adam Lambert she'd see him on the finale, it's been perfectly obvious to most that these singers are this year's chosen four. And the brand-new "Judges' Save" was surely only invented in case America accidentally votes off Alexis Grace in favor of the more likable Anoop. The only suspense left this season is how the judges plan to break all of this to Scott MacIntyre.