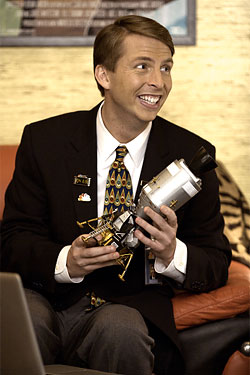 For the past three years on 30 Rock, Kenneth the page has endured all manner of cruel, hilarious abuse, yet his stupid optimism and boundless enthusiasm for NBC have never wavered, probably because he thinks he'll one day have a job. What a hayseed! This morning's Observer reports on the growing resentment among real-life NBC pages over working long hours for low pay and increasingly fewer advancement opportunities for entry-level employees in television.
"It's extremely selective for a reason," said one former page. "They're picking the elites. If you can make it into the page program, that means something. You're being groomed for a career in television. But almost everyone I know who just left the program doesn't have a job. If they do, it's not at NBC."
"Obviously, no one could have anticipated what happened with the economy," said another former page. "But essentially it has been a sort of negative experience. I no longer recommend the program to others."

According to the Observer, due to the economy (and probably NBC's ratings), the network is scaling back on the number of shows that use page labor, meaning some now just give tours and do menial chores for the length of the yearlong program.
We may have begged Jeff Zucker in the past not to fire blundering TV executive (and NBC wunderkind) Ben Silverman — but who could've imagined that his job security would come at the expense of so many hardworking, young former idealists?
Rage of the Page [NYO]