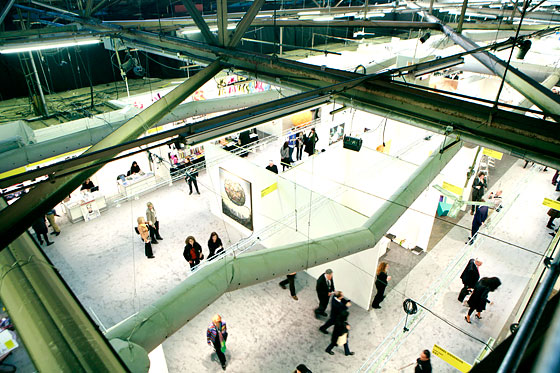 The color of money? The Modern lit its lobby and atrium a soothing cash green for the Armory Art Show after-party last night, calming a crowd of revelers that hadn't done too much more than window-shop the fair aisles. The biggest Armory fair ever — 220 dealers in two piers at the Hudson — hits at the art world's lowest point in the last decade. Dealers battled the ennui with optimistic quips and generally good work (especially the modernist Pier 92, dubbed "gorgeous" by Pollock-Krasner Foundation head Charlie Bergman).
Not that art didn't sell — it definitely did. But what's selling, at the Armory and other fairs, is mostly multiples, the limited editions that cost less than one-of-a-kinds. Hank Willis Thomas, a star of the Rubell Collection show of Black art in Miami, had one of the sensations of the Armory with his artificially aged eighties photo of Michael Jackson from Ebony magazine called Time Can Be a Villain or a Friend. At prices of $22,000 and $8,000 (by size), two had sold and more were on reserve by early evening, according to Katie Rashid, director of Jack Shainman Gallery. Artist Christine Hill was doing a brisk business in $50-and-under remedies sold from a faux "apothecary" at the front of the fair.
Artist Angel Orensanz, who runs an art foundation with spaces in New York, Paris, and Madrid, said he bought a Joel Shapiro multiple from Knoedler for about $25,000. "It's philosophical, melancholy." Said Whitewall magazine publisher Michael Klug: "Some people are feeling a little sad, but they're nicer to each other."
Missing, by and large, from the booths: erotic art, political art (save for ubiquitous Obama portraits in various mediums, like breakfast cereal), and all but a smattering of Chinese contemporary art. (David Zwirner was showing Yan Pei Ming's $100,000 portrait of Bernie Madoff, but no takers.) Work was mostly abstract or conceptual. Cool pieces to see are Indian artist T.V. Santhosh's Prayer Room, made of fiberglass bones, scrolling LED screens, and steel, at the Guild, Olafur Eliasson's wall of colors at Reykjavik's Gallery i8, Tony Matelli's portrait in sausage and mutton at Leo Koenig, Mel Bochner at Marc Selwyn, and Forum Gallery's show of Depression-era WPA artists.
Michael Stipe signed autographs, and artist Maurizio Cattelan, collector Jose Mugrabi, James Frey, John Waters, John McEnroe, Lou Reed, and Kim Cattrall (posing for photos by Deitch Projects), showed up for the VIP preview. But the dealers were more focused on MoMA head Glenn Lowry, making the rounds and stopping at Edward Tyler Nahem's booth to look at his $2.6 million Calder sculpture and the glorious, wall-eating $5.8 million Sam Francis. Said Nahem: "The dust hasn't settled yet," in the economy or art world — but at least there were crowds.
Related: 'Creepy' Bernie Madoff Watercolor Fails to Sell at Armory Show [Daily Intel]